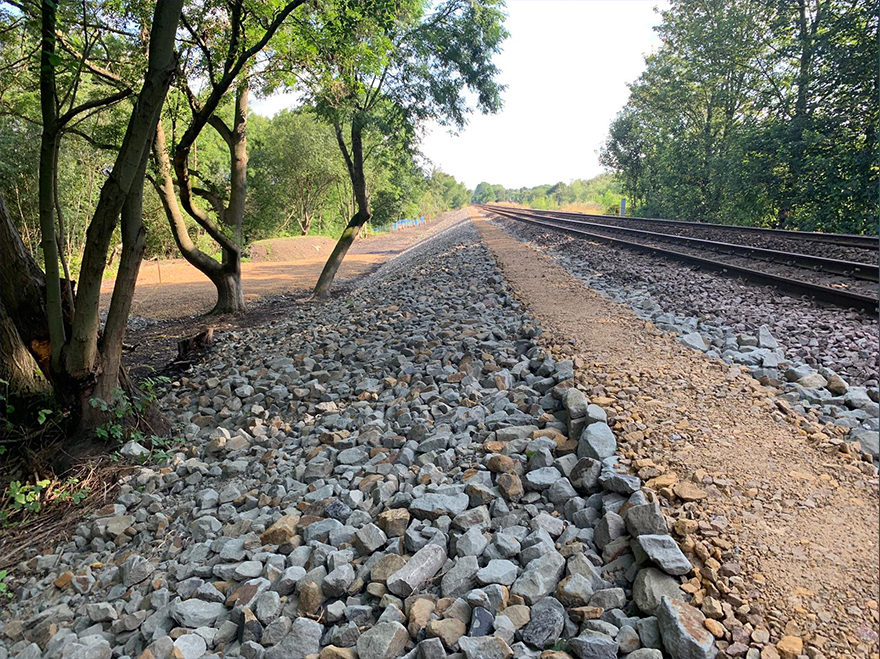 Story Contracting's Eastern Rail team, based out of York, has successfully delivered the first geotechnical project for Network Rail.
The works in Horbury, Wakefield, consisted of installation of a new rock filled berm to stabilise the existing railway embankment, delivered to help achieve Network Rail's mission to make the Eastern route safer and more reliable.
The team also completed vegetation management along the railway corridor, removal of a redundant siding, installation of a safe walkway for rail workers and permanent fencing installation.
The project forms part of a five-year framework contract worth up to £50m to carry out geotechnical work on the Eastern route over Control Period 6 (CP6) – Network Rail's programme of work to be completed between 2019 and 2024.
The Eastern route stretches from the capital city to Scotland and the projects will cover renewals work on embankments, cuttings and tunnel portals along the route.
Dan Jones, Contracts Manager for the Eastern team said: "We've achieved a significant efficiency by using a Story ALO excavator to complete the work during mid-week days, avoiding any disruption to railway operations.
"We've delivered a high quality scheme on time and on budget thanks to the collaborative efforts of the Story – Network Rail framework team."
The project success follows the news Story Contracting has invested in a new Ground Investigation (GI) team to drive efficiencies within its in-house design and build portfolio, as well as providing external services to the company's clients and design partners.