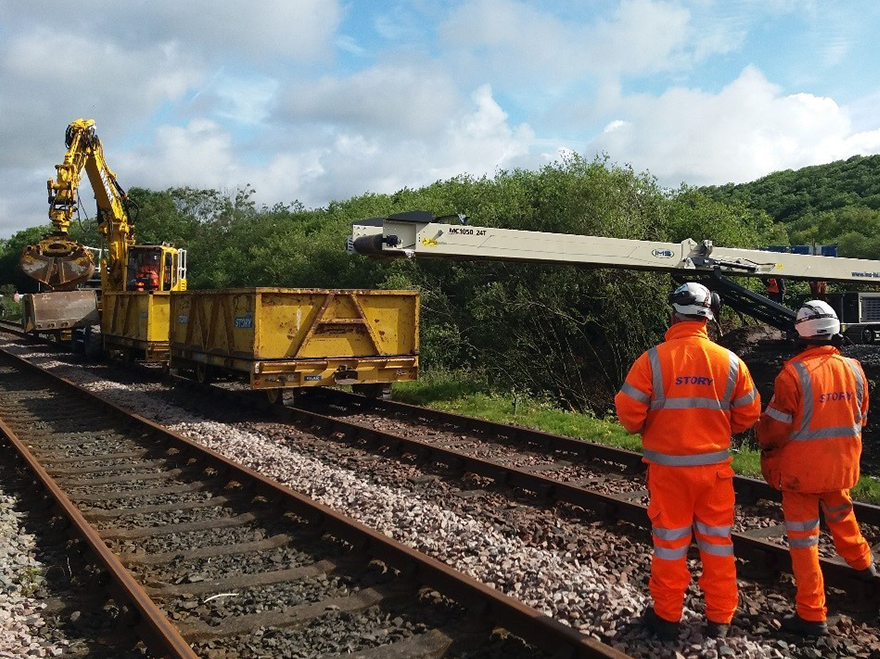 DAP Retaining Wall works near Barrow-in-Furness included the installation of 14,000 tonnes of material from the nearby Goldmire Quarry to create a new rail embankment to replace a failed retaining wall.
During a 6-week blockade of the DAP line. The stone was loaded into RRV trailers North of the site from the quarry by a conveyor and transported on average 800 tonnes of stone per day to the worksite.
The stone was then placed and graded by plant at the worksite to create the new embankment which to the delight of the structure's asset engineer for Network Rail, removed the failed asset from the maintenance regime in this area. Network Rail awarded the safety banner for high standards on site.
We received some great feedback:
Keith Sanderson NwR Construction Manager said: "The site is well worthy of the banner award for the effort that's being put in there".
The work site was accessed and undertaken in private land which included interface with several land owners. Greg Trucknell owner of the land where the works were undertaken said: "The project at Magicland is making excellent progress. I am very happy with the attitude of the Story workers."
Local landowner praised the project team: "I would like to say the team that worked at paddock 5 railway banking were very polite."
Ian Carlton, Project Manager said: "This has been a successful project with planning, delivery and collaboration with our suppliers and neighbours, well done and thanks to the project team."
Jonny Fearon, Contracts Manager said: "Well done to all and site and project teams in setting and maintaining the high standards we strive to deliver."