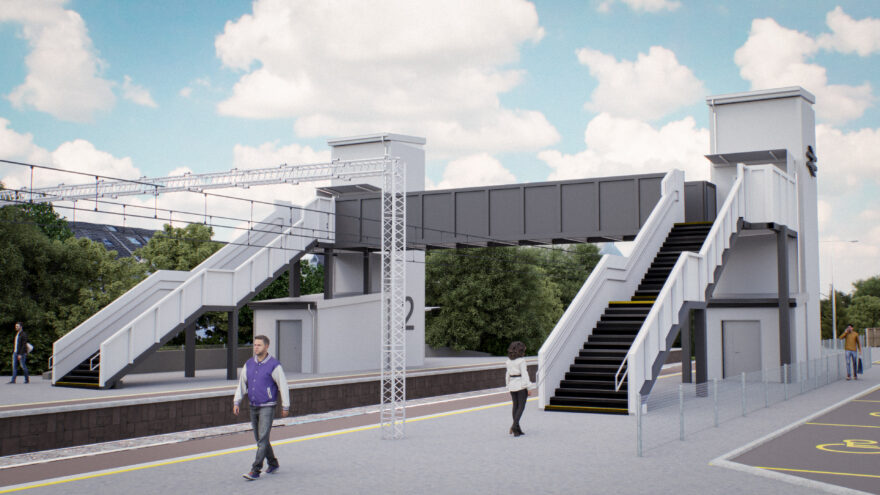 This week, construction works started on Story Contracting's 13th Access for All scheme for Network Rail in Scotland. In addition to live schemes at Port Glasgow, Anniesland, and Dumfries, the Story team are proud to be bringing step-free access to platforms at Uddingston Station by installing a new footbridge and lift system.
Train services will continue to operate as normal through the station but there will be some temporary changes to access during construction.
To find out more about the project, visit the dedicated page here: scotlandsrailway.com/projects/uddingston-access-for-all
Susan Menmuir, Network Rail's Scheme Project Manager for Uddingston station's accessibility improvements, said: "We are pleased to begin the construction phase of our project to install a new bridge with lifts at Uddingston station.
"The interest from the community in the project has been great and we are delighted to have developed a bridge that improves the passenger experience and delivers modern standards of access for those travelling to or from Uddingston.
"Over the coming months, there will be a significant amount of construction activity at the station and we thank passengers and those working and living nearby for their patience as we deliver these essential improvements."
The works are being carried out to make it easier for those with limited mobility or travelling with children, luggage or cycles to move between the platforms.
Due to the complex nature of our activities, there will be a mixture of night and day working. We will be installing traffic management within the Platform 2 carpark as well as diverting pedestrians around our compound to help keep everyone safe.
We urge everyone to please follow these temporary diversions which will be clearly signposted throughout the project.
Those living near the station will receive letters outlining key dates and milestones as the project progresses.