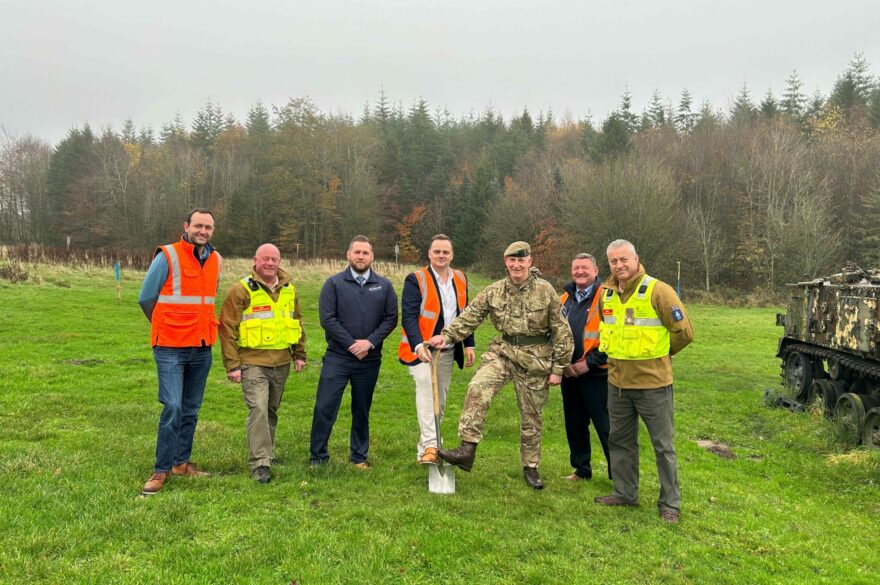 Pictured left to right at the informal groundbreaking ceremony for the new Urban Fighting Skills Facility at Whinny Hill: Ben Leng, Project Manager (Story Contracting), WO1 (Retired) Pete Rigby, Urban Training Warrant Officer (DIO), ​David King, Major Works Project Manager (Landmarc), Mark Neill, Managing Director (Landmarc), Lt Col Mark Holden, Regional Commander for the UK Defence Training Estate in the North (DIO), Dave Newton, Site Manager (Story Contracting), Maj (Retired) Mark Webster, Senior Training Safety Officer (DIO).
Representatives from Landmarc Support Services (Landmarc), the Defence Infrastructure Organisation (DIO) and Story Contracting have marked the start of a project to create a brand new Urban Fighting Skills Facility at Whinny Hill on Catterick Training Area in Yorkshire, with an informal groundbreaking ceremony.
The project, which is being procured by the DIO on behalf of the British Army, represents the start of a major programme of investment into urban training environments on the Ministry of Defence (MOD) Defence Training Estate, which will deliver a network of National and Regional Urban Training Facilities (NUTFs and RUTFs) across the UK. These are being designed with the levels of realism, complexity and density that replicate the range of urban environments likely to be encountered by military personnel deploying on operations.
Current facilities at Catterick do not include an indoor urban training facility so this will be the first of its kind in the region. Working with construction contractor, Story Contracting, the new £5m complex will provide a state-of-the-art training environment with briefing/de-briefing rooms, preparation and close down rooms, a server room and welfare services for approximately 40 soldiers at a time.
Veteran-owned business 4GD, who are specialists in creating immersive close combat training environments, are delivering the internal fit out. They will be installing their SimWall and 4GAV systems across all Urban Fighting Skills Facilities. SimWall comprises a series of panels designed to provide a greater variety of training scenarios. 4GAV will enhance the facility through the use of light, smoke and sound effects as well as detailed 'after-action' reviews.
David King, Project Manager for Landmarc commented, "As DIO's industry partner for the management and operation of the UK Defence Training Estate, our vision is to provide the best training experience we can for our Armed Forces. This project at Whinny Hill will further develop the military's ability to prepare for operations in complex urban terrains so it's exciting to see it start to take shape. I'm looking forward to working with DIO, Story Contracting and 4GD to enhance these training facilities for our troops."
Lt Col Mark Holden, Regional Commander for the UK Defence Training Estate in the North said, "DIO supports our Armed Forces by providing what they need to live, work and train. Current operational requirements have identified that there is a need for further investment and development of the urban training infrastructure. This new urban fighting skills facility is the start of a more complex and realistic urban environment to better prepare military personnel for operations around the world."
Alan Boyle, Construction Director at Story Contracting added, "Story Contracting are proud to be working in close collaboration with our client Landmarc to support the Armed Forces. We are confident that following the completion of our construction works and the fit out by the 4GD team, the Urban Fighting Skills Facility at Catterick will provide troops with a best-in-class training facility for years to come."