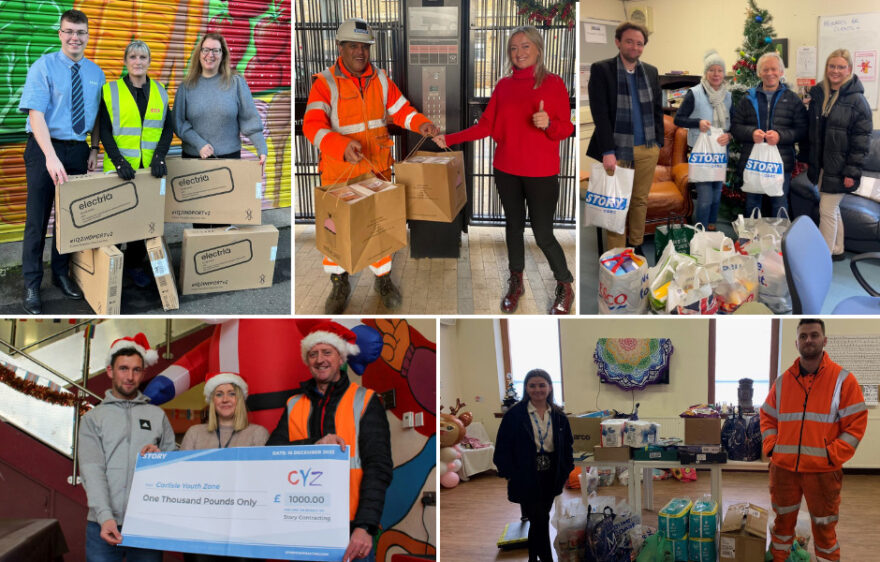 Story Contracting have delivered their twelve days of Christmas campaign throughout the UK, supporting charities and those in need this festive period.
On the first day of Christmas, Story delivered 67 hot water bottles to Crisis Skylight Birmingham. The charity work to support people who are experiencing homelessness or are at risk of homelessness around the city, and the donation will help to keep those in need warm over the cold winter months.
On the second day of Christmas, colleagues within the company took part in a Christmas jumper day, where festive and fashionable knitwear could be seen throughout the offices and on site to raise money for their seven charity partners. These include Mind, Scottish Association for Mental Health (SAMH), Carlisle Youth Zone, 42nd Street, LimbBo Foundation, Crisis Skylight Birmingham and Glasgow Children's Hospital Charity.
On the third day of Christmas, s6 Foodbank in Sheffield was in the spotlight. Story have built a strong relationship with the charity since the Summer of 2022, where the VolkerRailStory project team began volunteering with them. This has included bag packing and sorting food crates as part of the foodbank's initiative to provide nutritionally balanced emergency food and support to local people.
On the fourth day of Christmas, Story visited Cornerstone in Hartlepool to deliver a donation to the charity. This money will go towards providing people with bedding and 'moving in packs', emergency accommodation and a Christmas meal for service users.
On the fifth day of Christmas, the focus was on Simon Community Scotland. Throughout September Story dedicated 100 volunteering hours across the organisation's accommodation service gardens, and continued to support throughout the Winter Crisis Appeal.
On the sixth day of Christmas, Story donated £1,000 to Carlisle Youth Zone (CYZ) to help them support some of Carlisle's most disadvantaged families. This comes as a continuation of support the company provide to CYZ throughout the year as one of their charity partners.
On the seventh day of Christmas, Lancaster and District Homeless Action Service were visited by colleagues within the company to drop off a food donation that had been collected through their Chorley office. The donation will support people that are homeless or experiencing housing poverty in the local area.
On the eighth day of Christmas, Focus4Hope, a charity based in West Yorkshire providing support for homeless, elderly and isolated received a donation from the company to go towards food hampers. The team were then joined by Rachel Stalley from the Howarth Foundation to help pack them up.
On the ninth day of Christmas, Story supported Hamilton District foodbank in Scotland by donating to their food parcel delivery project. The church work with the local community to gather food, which is then packaged up and distributed to those in need.
On the tenth day of Christmas, Edinburgh Council's Discover! Project and Edinburgh Community Food received a donation of five hobs to help the charity to facilitate sessions with children and families, sharing low cost and nourishing recipes which they can make together and take home.
On the eleventh day of Christmas, Story visited Camden Foodbank to deliver a donation of cupcakes to spread the Christmas cheer, as well as a cash donation to go towards them helping to support those in need.
On the twelfth day of Christmas, up in Lochaber, Story donated food to the local foodbank to support those in need over the winter months. Across to Glencoe Primary School, a member of the team stepped in last minute to play the role of Santa and hand out Christmas presents at Glencoe Primary School!