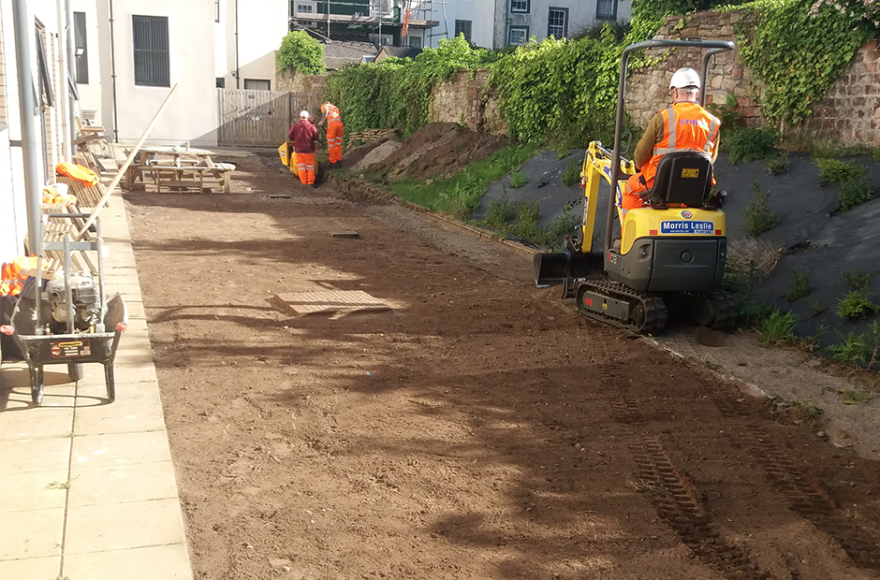 Story Contracting have been working at The Foyer in Whitehaven, Cumbria. The Foyer provides a safe place for young people who are in housing need between the ages of 16-25 a place to live, learn and make the transition to independent adulthood. Offering personal development and other services that enable young people to reconnect with learning, increase their employability, improve their health and wellbeing and develop their leadership potential.
Story Contracting have teamed up with Morgan Sindall, Arup and various other organisations from Sellafield to upgrade and renovate the garden area.
Craig Bell, Site Manager, said: "We were tasked with going into the gardens and stripping out the soil, flagging a large patio area, installing chippings for artificial grass and a barbeque base.
"All of this work had to be done using a micro digger and micro dumper as the access we had was only 900mm wide. These were kindly provided free of charge by Morris Leslie plant hire.
"The site team led by Paul Parr did a fantastic job. A thanks must go to the rest of the team; James Bolger, Dan Sherwood, Andy Robinson, Colin Bethwaite, Ian Johnstone and Jay McDowell."
Shelly Gambles, Whitehaven Foyer Manager, said: "We cannot thank you enough for supporting us with this project. There is limited space within the Foyer building for the residents to gather and they have expressed feelings of isolation and boredom.
"The garden will offer both recreational and learning spaces for our current and future residents to enjoy, providing them with a safe place to meet, learn and grow, a place to retreat from the temptations and the noise of living in an urban area and a place to develop new skills, enhance creativity and positively impact on their mental health and wellbeing."