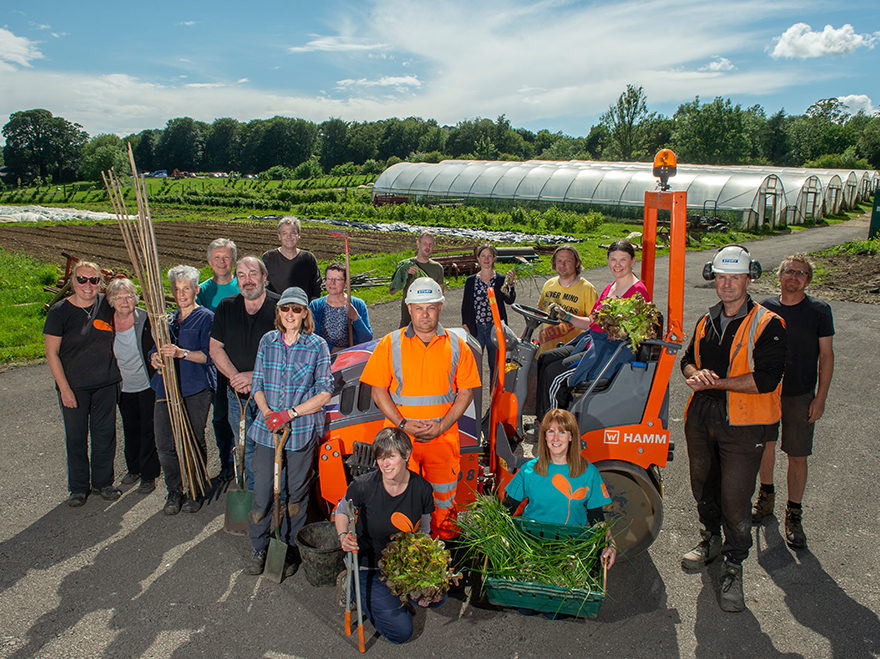 South Lakes mental health charity Growing Well has a new on-site car park and access road thanks to two leading Cumbrian businesses.
Story Contracting and accountants Armstrong Watson stepped in to support the charity, who were faced with having to raise more than £10,000 for a parking area and improved farm track at the site, which is leased from Low Sizergh Farm.
The new facilities at the six-acre organic fruit and veg farm were needed because the Low Sizergh Barn farm shop and café car park is under increased pressure from customers on top of the charity's staff, visitors and a growing number of volunteers recovering from mental health problems.
Staff from Team Story spent last week clearing an area of rough ground, laying the 30-space car park, and upgrading 200m of farm track, as part of the company's commitment to increase awareness and understanding of mental health and well being.
Growing Well Manager, Mary Houston, said: "We can't thank Story Contracting and Armstrong Watson enough for backing up their workplace commitment to mental health with their support for our work in the community here.
"Like all charities we are under pressure to raise money to directly support our vital work, training and support for people with mental health problems.
"The groundwork was unavoidable and necessary for us to continue this work but to have gone to the public to ask for money for a new car park and path wouldn't have been an easy ask.
"The support of these two businesses has been a game changer for us this year and we cannot thank them enough."
The project comes as Story scooped the Community Engagement award for their work raising awareness and breaking the stigmas of mental health.
Emma Porter, Construction Director at Story Contracting, said: "Giving back to local communities in which we work and live has always been really important to us at Story Contracting, so when we learnt of the Growing Well initiative and the work they do around mental health, we knew we had to get involved and help out.
"I'm very proud of the way in which the team have offered their time to ensure that this project was a success. We hope it will make a real difference to those who depend on it."
Cumbria-wide accountants, business and financial advisors Armstrong Watson, also supported the project by sponsoring the cost of materials.