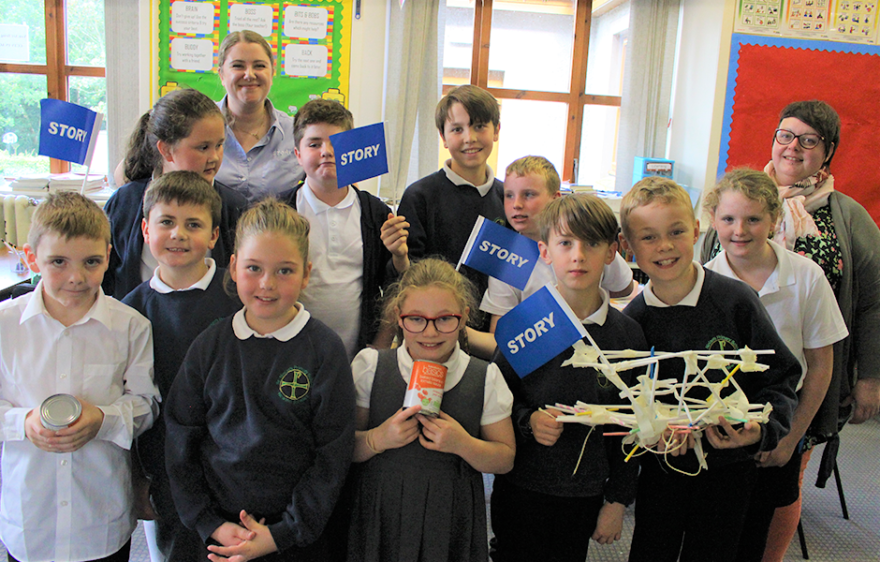 Story Scotland are currently working to construct a new combined cycle/footbridge in Newton Stewart, Dumfries and Galloway. The old Sparling Bridge was removed in November 2016 following severe flooding caused by Storm Frank, the bridge sits over the River Cree.
The new bridge will be accessible to all pedestrians and cyclists and will allow the Council to restore the crossing over the River to reconnect communities separated by the flood.
The project is jointly funded by Dumfries and Galloway Council and the Scottish Government through Sustrans Scotland's Places for Everyone programme. Sweco are the Principal Designers for the project.
Team Story visited local school, St Ninian's Catholic Primary School along with Dumfries & Galloway Council, where 15 pupils were challenged to build the strongest bridge by us. The children put their design and engineering skills to the test to build a bridge using straws, tape, string and elastic bands only.
In teams, the students designed, created and solved innovate bridge structures – from suspension bridges to truss bridges – and successfully completed the task.
The end of the challenge saw each team put their bridge through the 'big test'. Built over a gap spanning 50cm, their bridges had to hold the weight of tins of food!