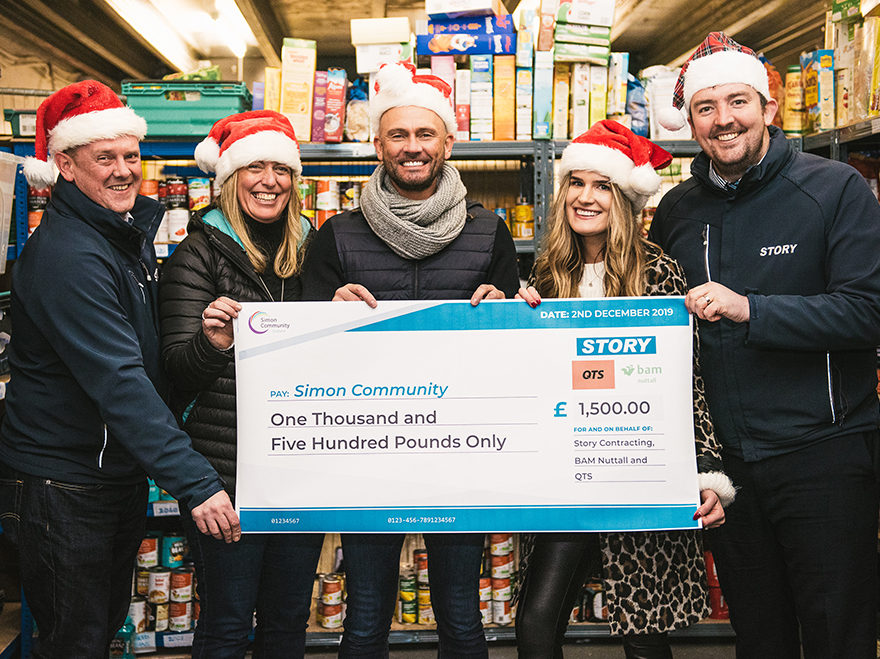 As part of our commitment to supporting the local community, a team from Story Scotland this week eschewed their usual Christmas video and instead dedicated their time to helping people experiencing homelessness in the run-up to Christmas.
Volunteers  joined forces with Network Rail and fellow framework contractors QTS and Bam to volunteer at the Simon Community Scotland donations warehouse in Glasgow.
A number of Story volunteers helped the homeless charity by sorting out donation essentials such as warm clothes and sleeping bags that can be given out to those in need over the winter months.
Simon Community provides survival packs and food and drink to people experiencing homelessness over Christmas and during the cold winter period.
The wider Story Scotland team are also contributing to the survival packs through collection boxes around its new Scottish head office in Blantyre. Staff are encouraged to bring in items such as warm coats, trousers, food, toiletries and hand and/or foot warmers that they no longer need or use.
Collectively, Story Scotland, QTS and Bam rallied together to raise £1,500 for the Simon Community Street Lifestyles project and the purchase of food essentials and items such as sleeping bags for people sleeping rough and vulnerable people.
Craig Lafferty, Operations Director of Story Scotland, said: "Christmas can be a joyful time of year for most of us, but for those who are struggling or having a difficult time, it can be extremely challenging – especially to be without a home during the bitterly cold winter months.
"It was great to see first-hand the positive impact that important organisations such as Simon Community have on combatting homelessness across Scotland and on our doorstep here in Glasgow. We are proud to support their Street Lifestyles project that cares for those who are less fortunate and brings them some much-needed hope this winter."
Lorraine McGrath, Chief Executive of Simon Community, said: "We are so grateful for the support of companies like Story – without it we would struggle to meet the demands over the winter period. The big added value is that each volunteer takes their experience back to their workplace, family and community and more people better understand the challenges that people experiencing homelessness and finding themselves sleeping rough face every day."
To find out more about the great work that Simon Community do in Scotland visit their website: www.simonscotland.org