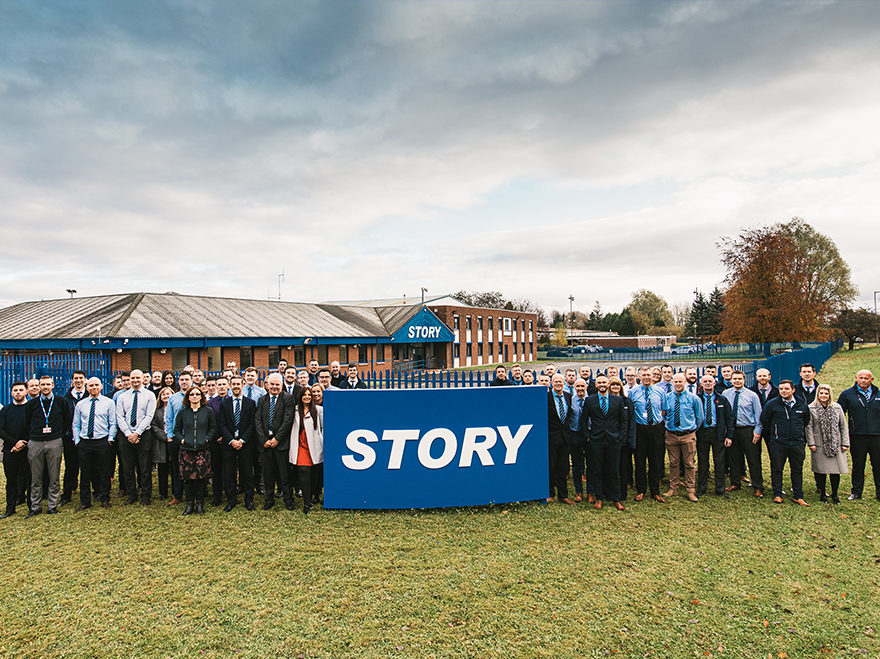 Scottish division of Story Contracting opens new head office in Blantyre to accommodate growing team and pipeline of projects.
The newly renovated 2,150sqm office is purpose-designed to bring together the expanding rail, civils and plant teams in Story Scotland, as they continue to deliver major projects for Scotland's Railway.
The hub will be a hive of activity as the team deliver a Network Rail contract worth up to £135m of renewal and enhancement projects in Scotland over the next five years to the benefit of the travelling public, with the aim of putting passengers first.
The third Scottish base for the growing division, the new headquarters includes training rooms, open-plan working areas and a 1,000sqm workshop facility to provide machinery and equipment across work sites in the region.
John MacArthur, Managing Director, Story Scotland, said: "I'm delighted with how my Story Scotland team has grown over the last 5 years, from just six employees in 2014 to where we are today.
"With our growing team and pipeline of projects, the time is right to open a new head office facility in Blantyre. This is an exciting time to be a part of Story Scotland with our expanding footprint and growing bank of work in the rail and civils sectors across the country."
Having grown by 57% in Scotland in 2019, the Division is looking to further expand its team, targeting another 300 employees to help deliver its growing bank of work.
The intake will include recruiting up to 60 graduates, trainees and apprentices in Scotland across the next five years.
This commitment comes as the Division's first ever Graduate Engineer – Victoria Cousin – has completed the company's three-year graduate scheme to become a Project Agent.
In her new role she will manage the delivery of projects from design stage through to completion. This includes quality and commercial control of the project as well as planning and liaising with the client, designer and subcontractors.
Victoria said: "Since completing my own programme I am keen to feedback my journey and help shape the experience for new graduates so that they can get the best out of their own graduate programme with Story.
"From starting out as the first graduate in Scotland to now being part of a much bigger cohort of graduates, it is exciting to see how the company is growing and what opportunities lie ahead."