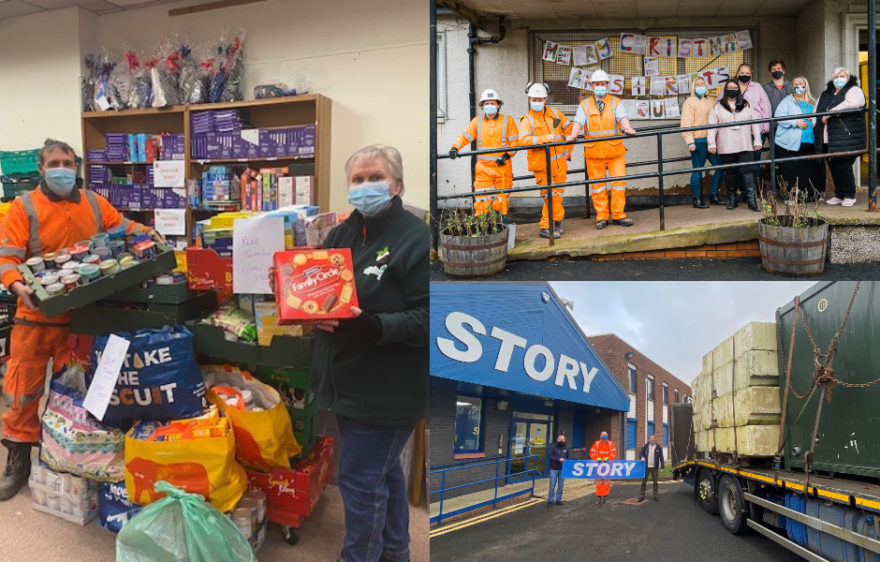 Story Scotland have spread Christmas joy to communities across the region this December, through charitable donations and volunteering.
The team have donated food to those in need, collecting for Trussell Trust Foodbank in Blantyre. In addition to the collection, the team donated their time to the Trust, helping with the heavy lifting at the charity's drop off centre, and sorting and delivering food parcels.
John MacArthur, Managing Director of Story Scotland, said: "Christmas can be a joyful time of year, with the chance to see family and friends, exchange gifts and have some fun. But for those who are struggling or having a difficult time, it can be extremely challenging. As a business, Story Contracting endeavours to be a good neighbour and to support the communities in which we work and as such, are proud to support those who are less fortunate and bring them some much-needed hope this Christmas."
Meanwhile in Croy, a team of workers have been helping renovate the local Community Hub to bring the once unusable downstairs space, back to life. The team have been stripping out the space, preparing it for the use of Youth Groups in 2022.
Kristofer Louden, Chairman/Trustee of the Hub, said: "The support provided by Story, has brought to life space within our hub, that was before unusable due to disrepair. As a relatively new charity in the process of completing a community asset transfer and growing in our community, the increase in useable space within our building, means we can move into 2022 with the ability to continue to expand our activities and services further, providing more flexible space suitable for our own use and to welcome in others."
The team are currently delivering works to improve accessibility at Croy railway station. On behalf of Network Rail, Story Scotland are installing a new footbridge and lifts to make it easier for people with impaired mobility or those travelling with luggage, children or cycles to access the platforms on the busy Edinburgh-Glasgow (E&G) route.
Looking ahead to 2022, the team are setting their sights on inspiring more young adults to consider a career in STEM. Supporting a local STEM project, ConStructEd Scotland (a not-for-profit organisation which aims to inspire future generations of trainee/graduate civil and structural engineers into the industry) Story Scotland and Story Plant have donated a welfare unit and temporary bridge for the organisation's educational programmes which supports universities and contractors alike.
Dale Lyon, Director of ConStructEd Scotland, said: "With 2022 looking like the busiest year yet for ConStructEd Scotland, we were delighted that our friends at Story Contracting got in touch and donated a welfare unit and a temporary EPS bridge. This will be a great addition to our facilities and allow us to develop further construction projects for our students."