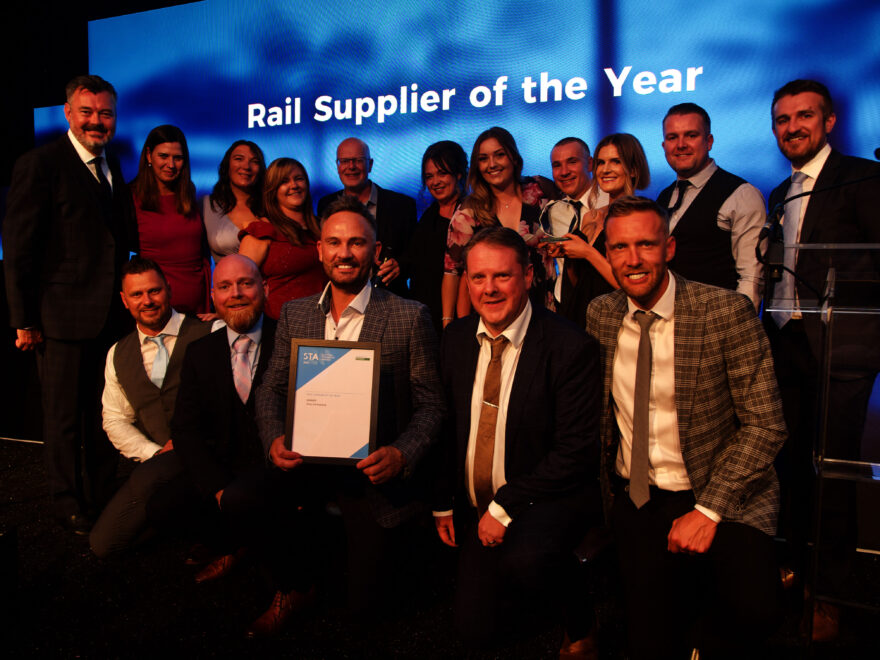 Story Contracting is proud to announce it has been named 'Rail Supplier of the Year' at the prestigious Scottish Transport Awards 2023. This accolade recognises the exceptional performance, innovation, and dedication displayed by Story in the transport industry to leverage its Network Rail framework to help put passengers first.
Story has consistently demonstrated its commitment to going beyond contractual obligations to make a positive difference in the communities it serves by adopting a 'best for project' approach to leave a lasting legacy across Scotland's Railway.
John MacArthur, Managing Director – Story Contracting (Scotland) commented: "Winning the 'Rail Supplier of the Year' award is a testament to the hard work and dedication of our entire team. We believe in the power of collaboration, and this award reaffirms our commitment to creating innovative solutions and a positive impact from all the engineering projects that we deliver. This bolsters the strong culture of quality and safety that our delivery teams embody across our sites.
"Our strong partnership with Network Rail has been fundamental in aligning our vision to put passengers and communities first. Together, we have delivered solutions that address local needs, enhance accessibility, and create opportunities for our lineside neighbours. This award inspires us to continue striving for excellence in everything we do."
The Scottish Transport Awards 2023 recognised Story for its achievements in delivering numerous community initiatives alongside civil engineering excellence. This included bespoke on-site industry taster days, apprenticeships and work experience placements to invest in skills for a future railway, whilst delivering the biggest concrete bridge lift in Europe during the Ravenscraig West Coast Main Line project.
Story was also proud to be shortlisted in the 'Excellence in Transport Accessibility' category for its contribution to enhancing Scotland's transport sector through its Access for All projects at Croy and Johnstone train stations for Network Rail. The partnership delivery of Access for All schemes at both train stations exemplifies Story and Network Rail's joint commitment to enhancing inclusivity and accessibility across Scotland's Railway. The work focused on delivering vital improvements to ensure that people of all abilities can access and navigate these stations with ease.
The Scottish Transport Awards celebrate the very best achievements and innovations in the transport industry across the country. This year's awards ceremony brought together industry leaders and experts to acknowledge the outstanding work done to improve transport services and infrastructure.