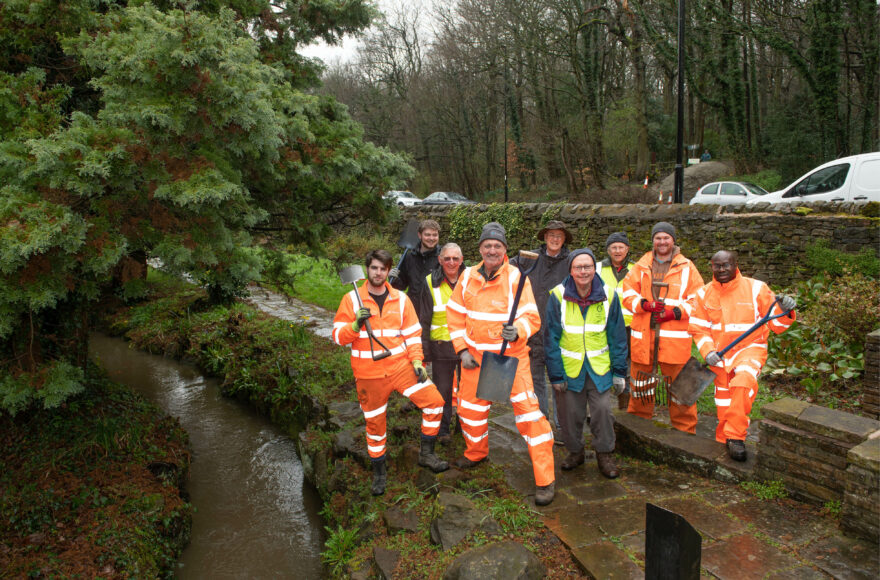 As upgrades continue along the Hope Valley railway line, Network Rail and the VolkerRailStory joint venture have undertaken a community project in Dore & Totley.
Showing true collaboration and commitment to enhancing the communities in which it works, the team spent several days helping the Sheffield Vulcan Rotary Club make improvements to Beauchief Gardens.
The community gardens are situated near to the railway line, a short walk away from Dore & Totley station, where a second platform, new track and an accessible footbridge is currently being constructed by the project team as part of the Hope Valley Railway Upgrade.
A total of 29 volunteers have spent over 80 volunteering hours clearing old vegetation, planting new flowers, and teak oiling garden benches in the gardens.
The project also donated over £900 for new plants, along with a new pergola at the garden entrance, to replace the one currently installed, which had become rotten.
Roger Hart, a member of the Sheffield Vulcan Rotary Club, said: "When VolkerRailStory started work on the railway line in Dore & Totley, on behalf of Network Rail, they approached us, stating they could help us with volunteering. The support they've offered us has been great. We are delighted with the work that they have undertaken in the gardens, and for the donation, which helped us add more plants and a new pergola."
Simon Hughes, Environment Lead from VolkerRailStory, said: "We have made large environmental & sustainability commitments on the Hope Valley project to protect the local environment and the green spaces near to where we are working.
"We are delighted to have been able to work with the Sheffield Vulcan Rotary Club to help enhance the already beautiful Beauchief Gardens, for residents in Dore & Totley to enjoy for years to come."
To publicise the improvements, a re-opening ceremony was organised by the Sheffield Vulcan Rotary Club, which took place in Beauchief Gardens on Friday 9th June.
The event was attended by Olivia Blake MP and the Lord Mayor of Sheffield, Colin Ross, who unveiled two celebratory plaques, recognising the cooperation between Sheffield City Council, the Rotary Club, Network Rail and VolkerRailStory to improve the gardens.