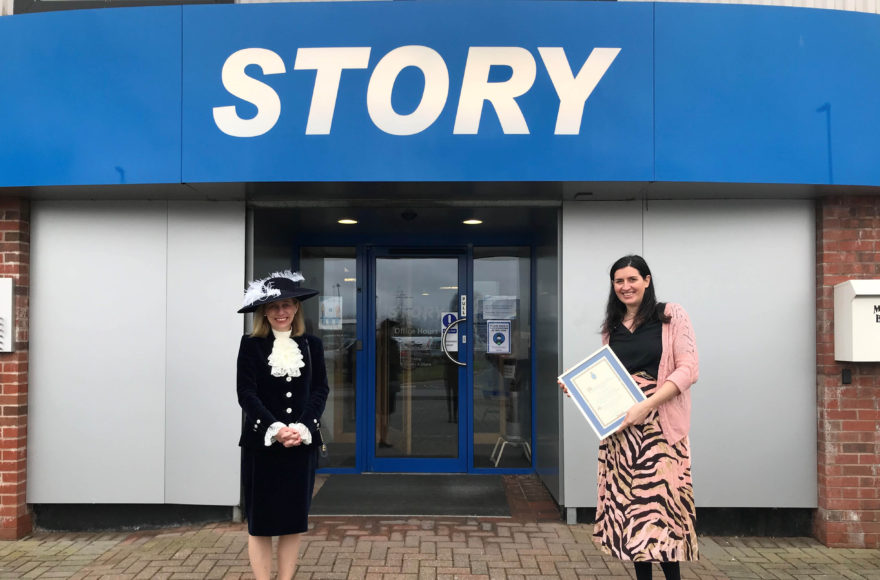 Community awards recognise the 'incredible ways' Cumbrian businesses have responded to the challenges of Covid-19.
The High Sheriff of Cumbria, Julie Barton, launched the Cumbria Covid-19 Business Innovation and Community Awards to recognise the outstanding ways businesses across Cumbria have confronted the challenges of the Covid-19 pandemic since March 2020.
Story Contracting is delighted to have won a Community-Spirited Business Award following its support for vulnerable communities, key workers and emergency services in Cumbria during the pandemic – clocking up over 1000 volunteering hours and raising and donating vital funds.
Mrs Barton, founder of the awards said: "With its 'Do it right' motto, the team at Story Contracting has been outstanding in its generous support of others in our county. I am amazed and so impressed by how much they have achieved through volunteering, donating, delivering and finding so many other creative ways to help others."
"Story Contracting has made such a positive difference to the lives of many people during the pandemic and that is why the panel of judges was so impressed with Story Contracting and its outstanding community-spirit. Congratulations and thank you to all at Story Contracting."
Certificates were awarded to Cumbrian businesses which the judges believe most demonstrate outstanding performance during the pandemic, alongside a £250 prize which Story Contracting donated to charity partner – MIND.
Emma Porter, Managing Director (Construction) – Story Contracting said: "Strong healthy business is synonymous with strong healthy communities. When the pandemic hit last year, we did what we always do; cracked on with getting things done. I am delighted that we've won the High Sheriff of Cumbria's Outstanding Community Commitment and Support Award for doing so."
"Story has deep roots in Cumbria; it's where the business began over 30 years ago, and it is still the place where most of our staff live and work. We were there for the Cumbrian community during the floods, we were there during Covid-19 and we will continue to play our part in the future."
Foodbank, aid package and PPE donations and deliveries are only some of the initiatives that Story Contracting has been involved with, working in collaboration with Cumbria County Council, Carlisle City Council, Cumbria CVS and other local support groups. Support included:
Providing a site cabin for North West Ambulance Service to give their team additional space as they serve the local community in the fight against COVID-19;
Staff carrying out over 250 foodbank deliveries with Carlisle Foodbank;
Picking up food from Marks and Spencer, Bells of Lazonby and others to donate to foodbanks, frontline and key workers, and local charities including Carlisle Key;
Donating care packages to Carlisle Vineyard Church 'Give a Day to the City' Project which distributed 'bags of courage' and 'hampers of joy' to frontline and key workers;
Donating 1,000 acetate sheets to Tech4Office Equipment Ltd to make face shields for front line staff; Picking up and delivered PPE from Newcastle for Cumbrian hospitals and GP's;
Providing spare PPE for NHS staff; Picked up spare PPE from Newcastle and delivered it to Cumbria NHS frontline staff;
Commissioning and delivering over 145 thank you cards to local nurse and midwifery students who graduated early to go on the front line;
Donating laptops to schools to give to children who would not have been able to participate in lessons without our support;
Picking up hundreds of aid packages from Primark for front line staff;
Delivering donated fridges and freezers for Foodbanks;
Donating soft drinks, energy bars, treats and self-care products to frontline staff at Cumberland Infirmary
Continuing to invest in the county's talent pipeline throughout the pandemic, thinking of new and innovative ways to safely engage and inspire local school students by launching a one-of-a-kind virtual work experience programme.
Working in collaboration with the Cumbria Local Enterprise Partnership (CLEP) to support the launch of the CLEP Careers Hub and our Construction MD and Board member of the CLEP, Emma Porter, has continued to virtually mentor young professionals in the region.
Throughout the pandemic, Story Contracting have also continued to support and invest in our local supply chain, implementing improved payment terms, issuing Key Worker documentation, accommodation support and health and safety advice. All of which allowed them to continue working throughout the lockdown period for the ongoing financial health of their businesses.