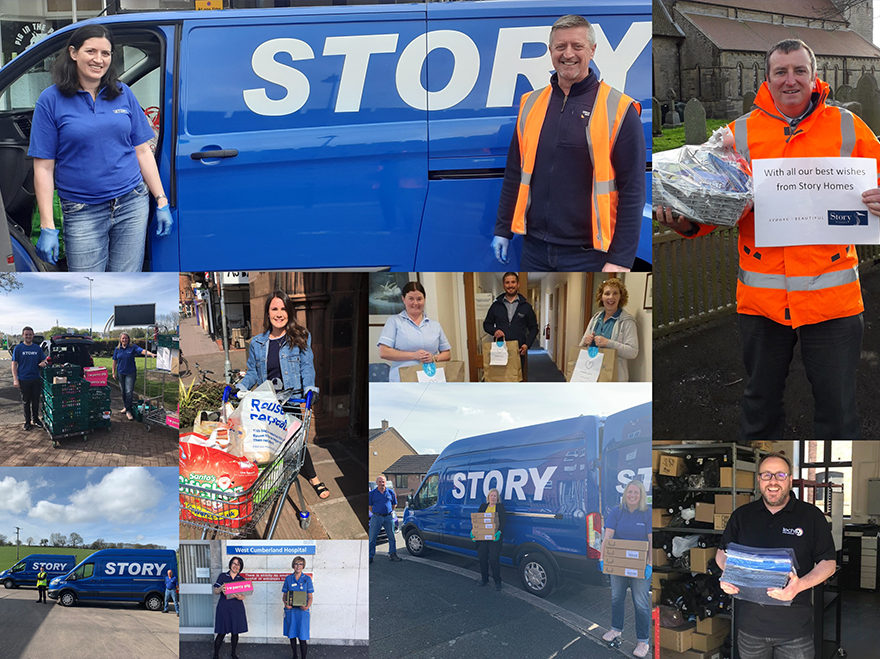 As the country shines a light on 'acts of kindness' during Mental Health Awareness Week, Story Contracting and Story Homes have pledged their support to help our local communities during the Covid-19 crisis.
Over the past two months, employees from the associated companies have put in over 500 volunteering hours to support vulnerable communities, key workers and emergency services in Cumbria, where the two companies are headquartered.
Together, the businesses have worked with Cumbria County Council, Carlisle City Council, Cumbria CVS and other local support groups to:
• Provide a site cabin for North West Ambulance Service to give their team additional space as they serve the local community in the fight against COVID-19
• Picked up and delivered PPE from Newcastle for Cumbrian hospitals and GP's
• Provided spare PPE for NHS staff
• Used sewing skills to make scrubs for NHS staff
• Donated £200 worth of toiletries to Simon Community Scotland who are helping hundreds of vulnerable people finding themselves without a home during COVID-19
• Donated a £100 B&Q voucher and grew sunflowers to support Simon Community Scotland in the creation of the garden spaces
• Carried out over 200 foodbank deliveries
• Picked up food from Marks and Spencer, Bells of Lazonby and others to donate to foodbanks and front-line staff
• Donated 1,000 acetate sheets to Tech4Office Equipment Ltd to make face shields for front line staff
• Helped schools with laptops for children
• Picked up hundreds of aid packages from Primark for front line staff
• Delivered donated fridges and freezers for foodbanks
• Donated children's activity packs to families across Story Homes developments
• Delivered Easter treats to NHS staff and the local community
• Extended discount on Story Homes for key workers
In addition, staff have also raised over £3,500 for charity partners & others who need help, through acts of kindness, various solo sporting challenges and virtual fundraising.
Fred Story, Owner  and Founder of Story Homes and Story Contracting, said: "As a local business it is really important that we do all we can to support our community during this difficult period.
"I'm proud of what we are all achieving together as a community to help and support those on the front line in the fight against COVID-19.
"And of course, the added benefit of helping and demonstrating kindness to others is that it is good for our own mental health and wellbeing, which is something we take very seriously at both Story Contracting and Story Homes."
Over the past two years, Story Contracting and Story Homes have selected Mind as their charity partner, with staff and business fundraising supporting the mental health charity. Click here to see  Story Contracting's current charity partners.