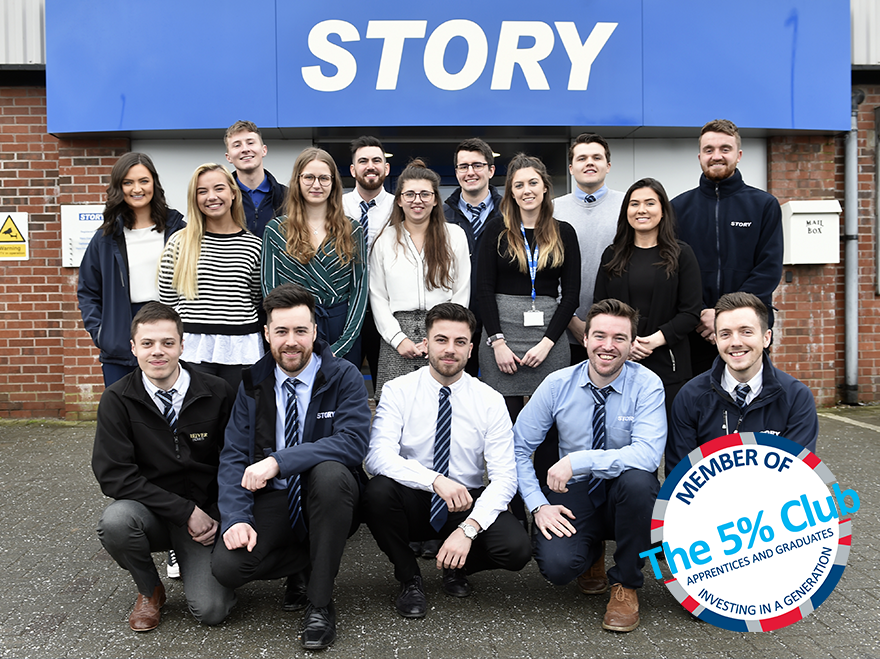 Story Contracting, an award-winning civil engineering company, has showcased its commitment to investing in its people by joining The 5% Club.
An industry led initiative, The 5% Club is focused on driving momentum into the recruitment of apprentices, graduates and sponsored students.
Companies joining The 5% Club commit to raising the number of apprentices, sponsored students and graduates on formal programmes to 5% of their total workforce within five years.
Employing over 700 staff across seven centres in England and Scotland, one of Story Contracting's main priorities is to help employees achieve their aspirations, no matter who they are.
Since the company first launched its graduate, trainee and apprenticeship scheme in 2017, it has trained over 30 apprentices, 17 graduates and 22 trainees.
Jason Butterworth, CEO of Story Contracting said: "As a family business, people have always been Story Contracting's most important asset and at the heart of everything we do.
"We recognise that we are successful because of the skills, commitment and professionalism of our people and as our business expands further, investing in the next generation and encouraging them to achieve their full potential, is a critical part of our business strategy."
Jason added: "We are proud to join The 5% Club to demonstrate our commitment to increasing the number of opportunities for people to develop and progress into a rewarding career at Story Contracting."
Lady Cobham, Director General of The 5% Club said: "We're delighted to welcome Story Contracting into membership. The 5% Club provides a fantastic network of HR professionals, sharing and learning from each other.  All our members share an ethos of creating a skilled workforce through 'earn and learn' development programmes, helping people develop meaningful career paths."
The pledge to The 5% Club comes a month after the company was awarded the 'Investing in People' accolade at the Rail Partnership Awards.
The Investing in People award reflected the company's commitment to sustainably grow, retain and attract a diverse group of multi-talented people to the rail industry whilst becoming a employer of choice for young and emerging talent, inspiring them into rewarding professional and vocational careers.