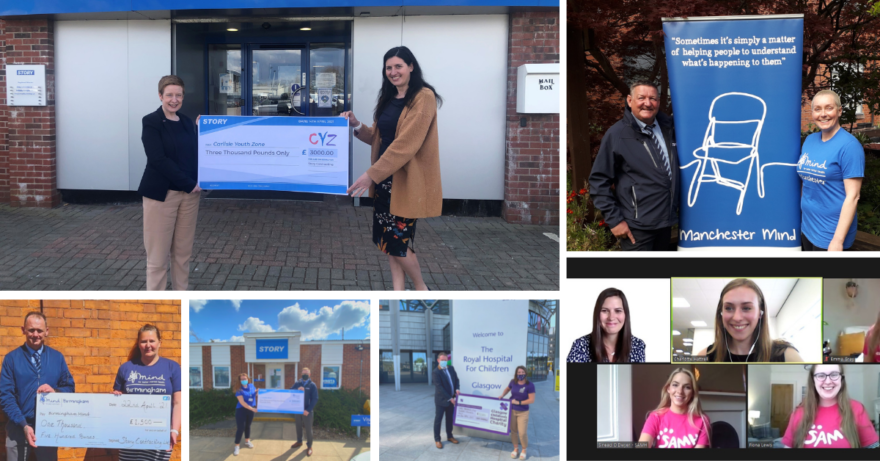 Story Contracting are proud to announce that they have raised over £27,000 for several charities across the UK.
Employees from across the business regions have carried out various fundraising activities ranging from online quizzes to 5K run/walk/cycles raising funds for the company's charity partners: MIND and Scottish Association for Mental Health (SAMH) along with their regional charities.
MIND provides advice and support to anyone experiencing a mental health problem. The funds raised will be divided between the local MIND branches in each of the companies' operational regions – including Manchester Carlisle, Newcastle, Lancashire, Leeds and Birmingham.
Story Contracting also provides frequent support to Scottish Association for Mental Health (SAMH), Carlisle Youth Zone, 42nd Street, LimbBo Foundation, Crisis Skylight Birmingham and Glasgow Children's Hospital Charity. They will be generously carrying out fundraising events for these charities until April 2022.
MIND, Manchester was proud to have Story Contracting's continued support over the last couple of years.
Joanna Huddart, Fundraising Manager said, "Story Contracting have been so supportive of Manchester MIND over the years, specifically in aid of our mental health service for children and young people (known as "CYP"). So, we are thrilled to hear that you wish to make another donation, which will make a very real difference during the pandemic, when so many more young people need our help."
Fiona Lewis, Corporate Partnerships Manager from SAMH said, "This is really amazing news to receive, thank you for confirming Story Contracting would like to donate £4k as part of our charity partnership. It is hugely appreciated by us all."
Adam Dengel, Chairman of the LimbBo Foundation added, "we cannot thank you enough for helping us, especially in these challenging times. It's donations like yours that help make a difference to so many children's lives so again thank you so much!"
Story Contracting prides themselves in recognising the importance of improving and contributing to the communities in which they live and work, supporting projects, people, and inspiring future generations to help create thriving communities in and around operating areas.
Click here to find out more about Story's work in the community