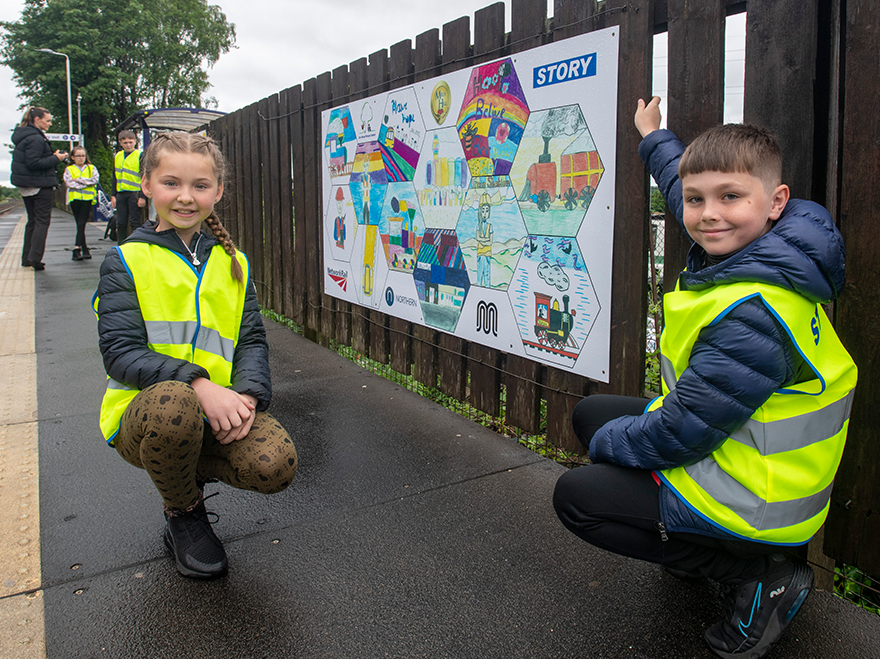 A new mural created by local pupils now takes pride of place at Mills Hill Train Station.
The art, which celebrates inclusion and the railway, was made by the pupils of Mills Hill Primary School and Elm Wood Primary School in the town, with each child creating their own design to fit into the 'beehive' mural.
Commissioned by Story Contracting, Network Rail, Transport for Greater Manchester (TfGM), and Northern, the murals will brighten up the station with increasing passenger numbers returning to rail travel after Covid-19 lockdowns.
Lacey-Summer who is a Year 6 pupil at Elm Wood Primary School: "I was so grateful for the opportunity to take part in the display at Mills Hill Train Station. I really enjoyed learning all about engineering and loved designing the artwork for everyone to see."
Tim Norman, Deputy Headteacher of Mills Hill Primary, said: "At Mills Hill, we see our school family as extending beyond the school building, to including family, friends and the local community, and so we were delighted to be asked to be involved in such a positive community project.
"The 'Access for All' theme reflects Mills Hill's inclusive ethos and so the children put their Enquiring Minds and Caring Hearts into action in designing some beautiful, colourful and thoughtful art work which they can't wait to see displayed at the redeveloped Mills Hill station."
Megan Savage, community engagement executive at Story Contracting, said: "We saw an opportunity for local school children to make a difference to their station, and they made it happen. The display they have created clearly demonstrates that Greater Manchester is a great place to live, where everyone is welcomed and respected."
Michael Keating, station development manager for TfGM, said: "We are delighted to have been given the opportunity to support both schools in the production of artwork for Mills Hill station. The pupils have done a fantastic job and should be immensely proud of the work that they have all created."
Karen Hornby, head of stations and customer relationship for Network Rail, said: "The new mural is a fabulous addition to Mills Hill station where we've recently completed accessibility improvements to make journeys easier for passengers.
"I'd like to thank pupils from Mills Hill and Elm Wood primary schools for their creativity which will be enjoyed by station users as we continue to welcome more passengers back to the railway."
Chris Jackson, regional director at Northern, said: "It's great to see a local piece of artwork brightening up Mills Hill. We work really closely with the communities we serve and it's fantastic that that same community has been able to make such a valuable contribution to our station.
"The mural complements the improvements we've made at stations across our network as part of our Better Way to Go programme which, with customers at its heart, has delivered better facilities, improved accessibility and more ways to buy tickets for travel."
The murals have added extra colour to the newly redeveloped station following recent investment, as part of the Government's 'Access for All' scheme, to improve accessibility for passengers.
Delivered by Story Contracting on behalf of Network Rail, work delivered at the station included new ramps, lift and staircase.