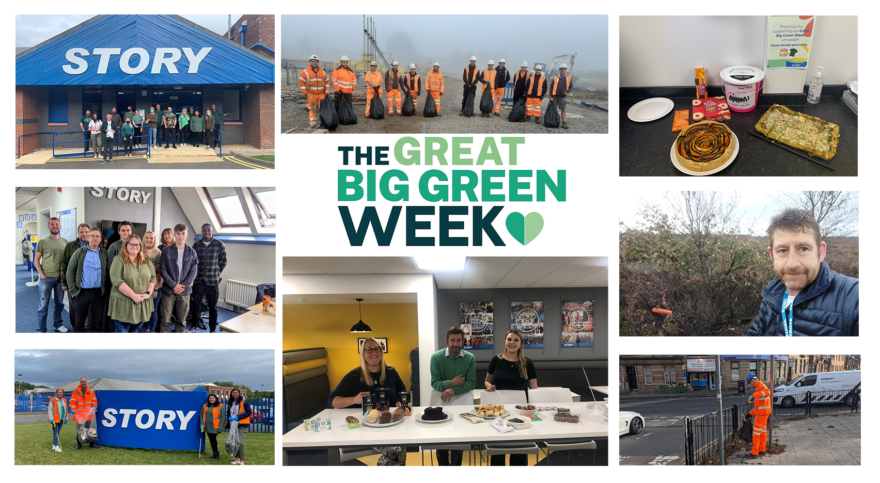 Story Contracting celebrated Great Big Green Week, a national week of events celebrating action on climate change, running from 18-26 September 2021. It is also a part of the lead up to COP26, the UN Climate Change Conference being hosted in Glasgow in November.
As part of Story's commitment to minimise our environmental impact, and reduce our carbon footprint, we encouraged all our employees to take part in the week, by attending the events and activities we had lined up. This included going meat-free for the week and taking small sustainable steps at work and home that can contribute to wider positive change.
The programme for the week included litter picks and tree planting activities across the UK, environmental STEM sessions at primary schools near our work sites, and with Carlisle Youth Zone, and holding a vegan/vegetarian bake sale on 'Dress in Green' day, to raise money for The Climate Coalition charity. The Climate Coalition charity aims to build a cleaner, greener future by asking our leaders to put in place the investment and policies needed to reach net zero.
Katherine Mills, Environment & Sustainability Manager said "'It was great to see so many people in Story getting involved in Great Big Green Week and embracing the need to tackle climate change now, for the sake of future generations. I really enjoyed getting involved and trying to be 'greener' for the week by using public transport and walking instead of driving to the office, plus supporting Cumbria Wildlife Trust in their conservation activities."
"Every little contribution has helped to spread the climate change message across our business, supply chain and communities we work in, and shows that Story is serious about reducing its carbon emissions as part of the 'Race to Zero Carbon'."