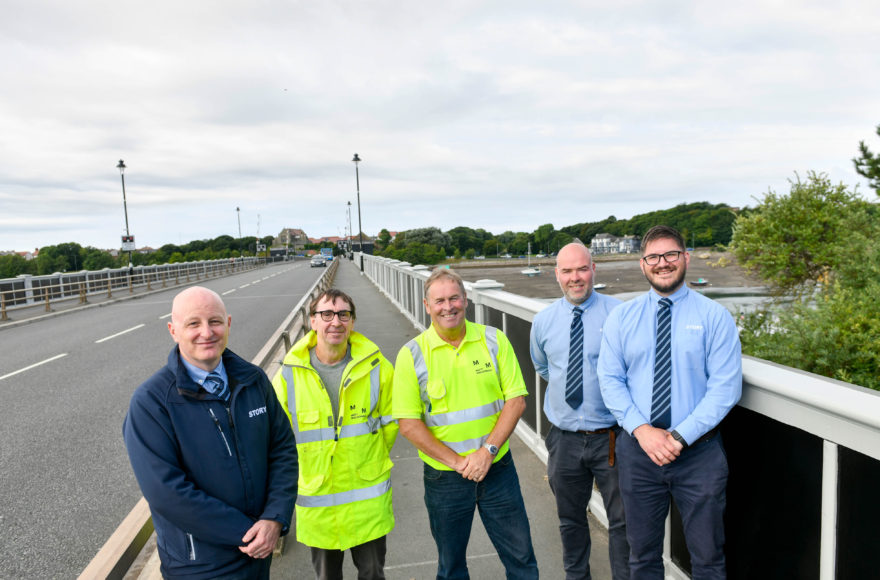 Story Contracting's Construction division recently completed major works to Jubilee Bridge, Barrow, on behalf of the Cumbria County Council. The £5m investment has seen significant maintenance and refurbishment works carried out to the bridge, securing its future for many years to come.
The original bridge erected in the 1900s, needed extensive repairs due to the deck waterproofing failing, resulting in water seeping through to the concrete deck and corroding the steelwork.
The three-year programme of works included; re-waterproofing of the bridge deck, carrying out the over 1,000 repairs to the steelwork and repainting the steel structure.
Councillor Keith Little, Cumbria County Council Cabinet Member for Highways and Transport, said: "I'm delighted this very important project to repair and refurbish one of Cumbria's key road bridges has been completed.
"The County Council has invested approximately £5m in this scheme to ensure the bridge is fit for purpose and these works will secure its future for many years to come."
"Thanks to our contractors, Story Contracting, for doing an excellent job, and I'd also like to thank local residents and businesses for their patience and understanding while these works have taken place."
Alan Boyle, Operations Director for Story Contracting's Construction division said: "We feel proud to have supported our key client Cumbria County Council over the last few years on the essential Jubilee Bridge programme. The completed maintenance works here in Barrow will secure the structure for traffic and pedestrians for years to come and we thank them for their patience while we delivered the project."
Click here for more information about the project.