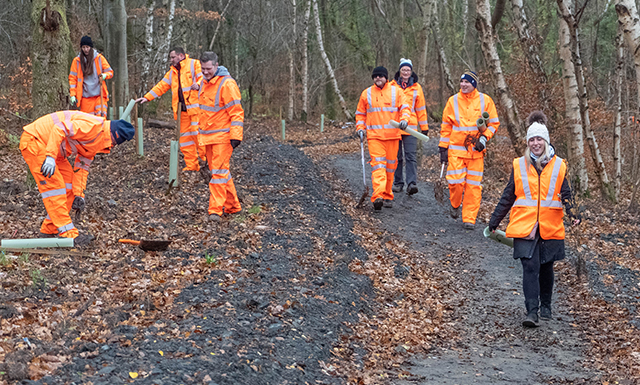 Story Contracting have recently completed a logistically complex project in Motherwell, North Lanarkshire to protect the 6-span Orbiston Viaduct which carries the West Coast Mainline over the South Calder Water. Extensive scour protection works were delivered on behalf of Network Rail and required the installation of an access ramp down to the watercourse – with a 70m drop in evaluation.
To celebrate the successful delivery of the project, Story Contracting joined forces with Network Rail to hold a volunteering day to plant over 125 trees along the public footpath which runs underneath the viaduct.
The two organisations worked together as one collective 'Scotland's Railway' team to plant a mix of native trees including birch, hazel and oak to give back to the local community and promote biodiversity in the woodland area. Bat nesting boxes were also installed onto the viaduct itself whilst rope access engineers carried out masonry repairs.
Laura Craig, Scheme Project Manager for Network Rail said: "It's been a real positive for us to be able to give something back to the local community whilst working at Orbiston Viaduct. Planting trees along the footpath helps contribute to our wider biodiversity and carbon reduction strategy whilst also providing us with a great opportunity for team-building within Scotland's Railway."