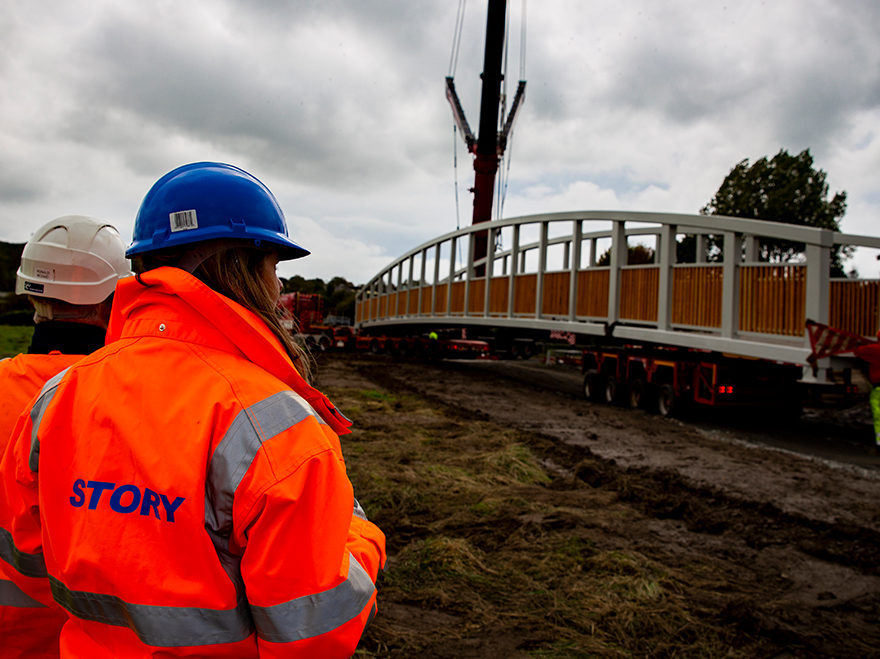 The town of Newton Stewart in Dumfries and Galloway welcomed the arrival of the new Sparling combined cycle/footbridge last week.
On behalf of Dumfries and Galloway Council and Sustrans, Civil Engineering company Story Contracting took delivery of the new 40m span painted steel Vierendeel truss bridge on Thursday 4rd October.
Transported via lorry, the bridge – designed by SWECO – travelled from Glasgow along the A75 before reaching the town.
Crowds of local residents welcomed the bridge – built by Lanarkshire Welding Company – and watched on as the 40-tonne bridge was installed in one lift using a 750-tonne crane.
Andy Ferguson, Chair of Dumfries and Galloway Council's Communities Committee, said: "This is great news. Now that the bridge is on site the final stage can commence with the opening of the final crossing scheduled for early November, weather permitting.
"It will be great to see a new bridge which is modern and designed to accommodate pedestrians and cyclists alike. I look forward to the opening when communities on both sides of the river will be connected again."
The project is jointly funded by Dumfries and Galloway Council and the Scottish Government through Sustrans Scotland's Places for Everyone programme.
Simon Strain, Infrastructure Manager at Sustrans, said: "It's great to see an important and popular link across the Cree restored for residents of Newton Stewart and walkers and cyclists on the National Cycle Network.
"The new wider bridge and improved access routes mean that the route is accessible for all, giving everyone an alternative to the main road bridge."
Sitting over the River Cree, the old Sparling Bridge was removed in November 2016 following severe flooding caused by Storm Frank. Following community engagement, it was agreed that a new bridge be located 100m downstream and rather than re-install the old narrow bridge, a new and improved structure be designed.
David Kellighan, Civil Infrastructure Manager at Story Contracting said: "It was a landmark day for everybody involved, and everyone from the project team to the local community were delighted to see the bridge make its way into the town.
"Story Contracting are proud to have been chosen to deliver the new Sparling Bridge; helping to restore an essential crossing over the River Cree, reconnecting communities in Newton Stewart and Minnigaff separated by the flood."
Over the next few weeks, the project team will be constructing approach ramps, paths up to the bridge, lighting and scour protection to the river bank.
The new bridge will be accessible to all pedestrians and cyclists and will allow the Council to restore the crossing over the River to reconnect communities separated by the flood.