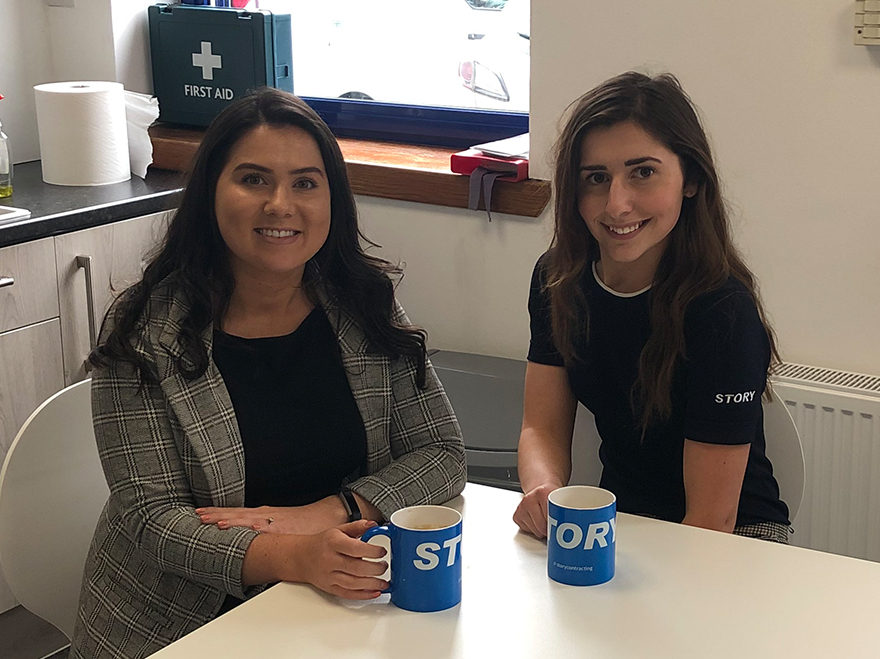 As our new graduates and trainees settle into their roles across Story Contracting, the first ever Story Scotland graduate, Victoria Cousin, finishes her Graduate Placement.
Now a Project Agent, Victoria sat down to meet new Story Scotland Graduate, Ema Beka:
Victoria meets Ema
Story Contracting has successfully introduced the new 2019 cohort of Graduates, Trainees and Apprentices across the company continuing its commitment to investing in people and being part of the 5% Club. Ema Beka one of the Graduate Civil Engineers who has joined the Story Scotland division moved all the way from Edmonton, Canada for this role!
Originally from Kosovo in Eastern Europe, Ema has always planned to relocate back to Europe for her career and the graduate position with Story Contracting gave her that opportunity.
The Story Scotland Directors and I were very impressed by Ema's initial cover letter and CV and we decided to go ahead with interviews over Skype.
"The company suggested that I talked to a fellow graduate before I pursued the job which I found very considerate of my best interest, so I immediately had a good impression of the company."
I spoke to Ema first to give her a good insight into what the Story culture would be like including our visions and values to give her a real feel of the company. I explained the type of work she would be involved in, the tailored graduate programme and the varied experience she would get.
This gave Ema the opportunity to really consider this job and the huge moving commitment that came with it with realistic expectations.
"Victoria gave me a very good overview of the graduate program and what Story is like – I realised how good an overview after the company induction, in that Victoria had already told me about a lot of what we went over those few days."
Ema went on to have a successful Skype interview with the Story Scotland Directors and was subsequently offered the graduate position.
"I took the job at Story because the position was undeniably a great opportunity for a newly graduated civil engineer."
I stayed in touch with Ema over the summer between job offer and her start date and tried to give her as much local advice as possible for her move to Scotland and getting set up and settled in.
"I really appreciated the checking in emails I got. It kept me motivated and reassured that I was making the right decision."
Ema is working within the Structures team in Scotland where she will continue to develop her engineering knowledge and skill base. As part of the graduate programme she will attend quarterly graduate development days and take on secondments internally and externally.
"Story has definitely met my expectations, I haven't been disappointed at all. I realise I may have just been super lucky, but every single person I've met so far has been friendly, including the other graduates."
As I am now nearing the end of my own graduate programme I will aim to support Ema and the other graduates as best I can and share experiences from my own journey with Story.
Victoria Cousin, Project Agent