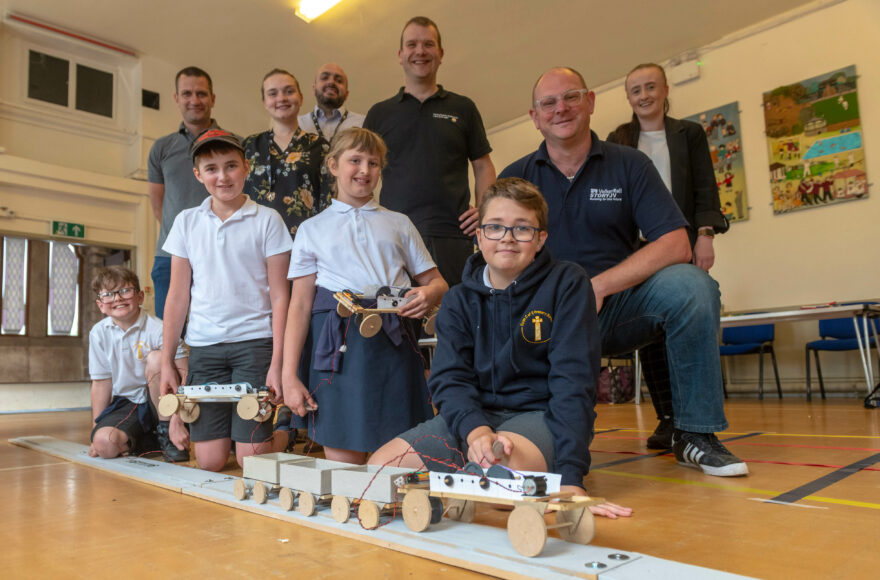 The VolkerRailStory joint venture, working to deliver railway upgrade work along the Hope Valley line, has supported 10 local primary schools in delivering a number of classroom-based rail projects.
The school projects were created by not-for-profit organisation, Primary Engineer, and funded by the joint venture.
As part of an initiative to develop children through engagement with engineering, the projects saw Key Stage 1 and Key Stage 2 primary school classes design and construct either a shoe box train or an electrically powered train.
Engineers from the joint venture were on hand throughout the sessions to provide engineering advice and to give presentations on their role and a day-in-the-life of an engineer.
A celebration event recently took place as part of the programme, which saw thirty children from the local schools showcase and receive awards for their participation in the scheme.
Darren Lockwood, Project Director from VolkerRailStory, said: "We've really enjoyed working with Primary Engineer and engaging with local primary schools while we deliver upgrade work along the Hope Valley line for Network Rail.
"It's been great to see the enthusiasm that the children have shown while building their rail projects, and to give them an insight into the world of engineering. We hope that we've inspired them to choose rail as a future career!"
Andrew Norris, Head of Partnerships – Central England, from Primary Engineer, said: "We are delighted to partner with VolkerRailStory to inspire children through engineering and demonstrate that there are exciting career opportunities in the rail industry. "
"Many companies talk about the lack of engineers and VolkerRailStory have stepped up and funded a project to increase aspirations in children regardless of gender, ethnicity or socio-economic background. Thanks to all the engineers and employees at VolkerRailStory who supported the project and also to the children and teachers for taking part."