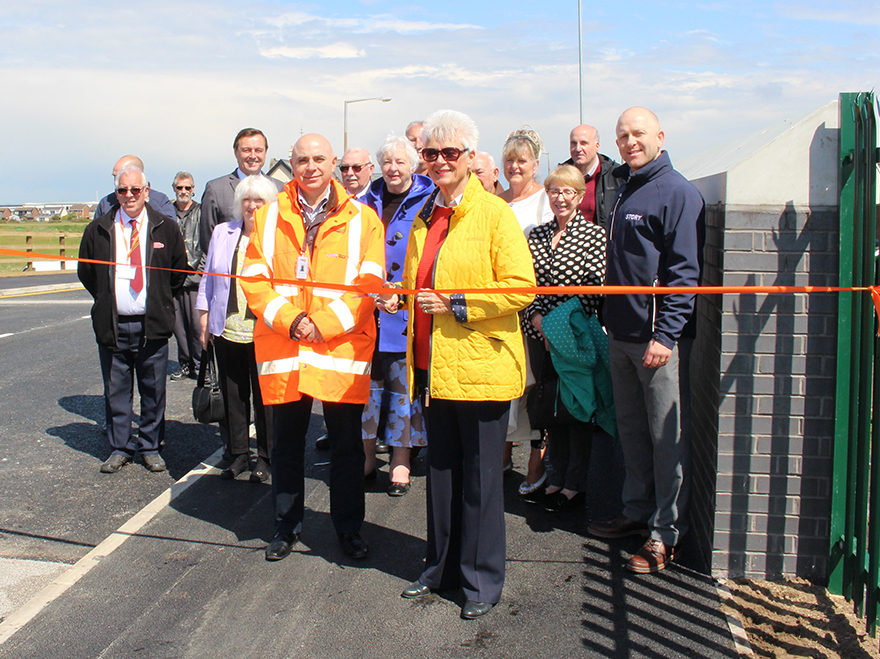 A major road bridge in Lytham St Annes has reopened to the local community following a four-month project to rebuild it.
Councillor Sue Fazackerley, Leader of Fylde Borough Council, joined local residents on Friday 10th May to announce the new Highbury Road bridge open for use.
As part of Network Rail's Great North Rail Project, Story Contracting were contracted to deliver the replacement of the historic bridge which spans the railway between Preston and Blackpool South.
The vital project, which began in January, involved replacing the old 1930's structure with a new bridge consisting of 27 pre-cast concrete sections which will make the bridge safer, more reliable and in need of less maintenance in future.
Councillor Sue Fazackerley said: "We have really missed the ability to use this road bridge but fully appreciate the necessity for the work to be undertaken. It will ease the congestion around other road bridges in this vicinity, especially at peak times.
"From a personal viewpoint, I cross the railway bridge at least twice a day and eagerly anticipated its re-opening!"
Ian Carlton, Project Manager said: "I'd like to thank local residents for their patience while the bridge was closed while we carried out this essential work.
"At Story Contracting we always aim to be considerate of our neighbours and to 'Do it Right' by the local community. Throughout the project we've worked with Network Rail to actively communicate with the local businesses and residents to help minimise the impact of the project; from letter drops and a community drop-in session to social media updates.
"I am delighted that the work is now complete and residents can use this new bridge to cross the railway safely."
Eddie Haddad, programme engineering manager for Network Rail said: "Highbury Road bridge has been rebuilt as part of a £2.2m Great North Rail Project investment that will help to future proof the rail network in Lancashire.
"We are very grateful to motorists, passengers and the local community for their patience while this vital work was completed."
https://twitter.com/i/status/1126843512966848513