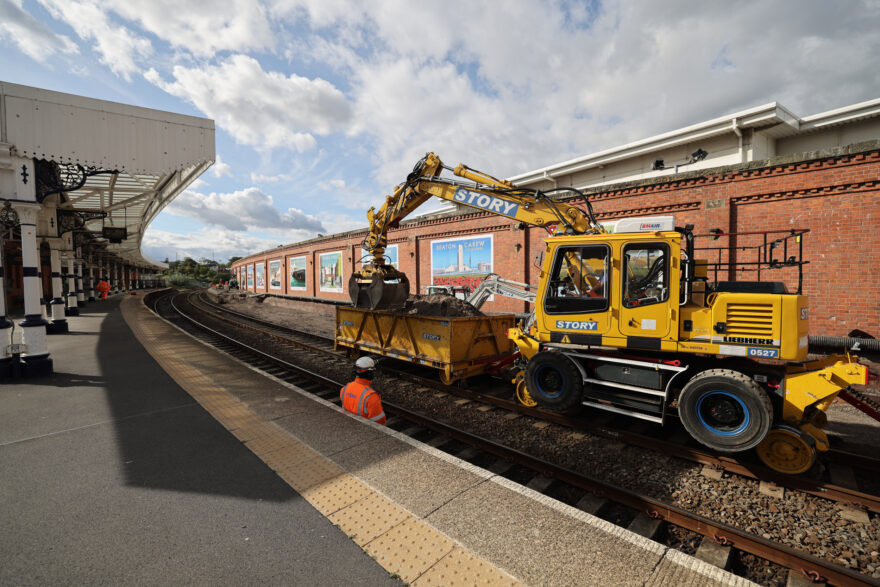 Story Contracting have begun upgrade work on Hartlepool Station, with the demolition of the disused platform 3 marking the first phase of the redevelopment.
The team, on behalf of Network Rail and Tees Valley Combined Authority, have successfully removed the platform over 108 hours; removing 1500T of spent material. With demolition complete, piling will now begin on site, making way for the construction of a new platform.
As part of the works, the existing platform 2 will also be extended by 20 metres to house a new footbridge and lift for improved access.
Chris Ralph, Scheme Project Manager for Story Contracting, said: "We're proud to be supporting Network Rail and TVCA in the delivery of the upgrades at Hartlepool Station.
"The works to improve the station for local people, will include community benefits such as providing step-free access to the platforms to enhance the journey experience for those with impaired mobility or travelling with children, luggage or bikes."
Currently only one platform is used by trains heading both north and south up the coastal line. The works will help provide more capacity to enable future service for routes including those between London and Sunderland operated by Grand Central. The development will also provide a potential boost to Northern services which connect Hartlepool with Middlesbrough, Newcastle and other major towns on the Durham Coast rail line.
Mayor Houchen said: "I'm delighted crews are now on-site for this long-awaited project to boost connectivity for local people and visitors. It's sorely needed as we work to improve Hartlepool town centre through our Mayoral Development Corporation and drive jobs, investment and increased tourism with fantastic events like the Tall Ships in 2023.
"Pre-pandemic, up to 650,000 people were using this station every year and these improvements will make sure this figure can grow as we unlock even more capacity right across our transport network and give local people the services they deserve."
Councillor Shane Moore, Leader of Hartlepool Borough Council, said: "The start of work on this multi-million-pound upgrade to the station opens yet another important chapter in the massive ongoing transformation of our town.
"By the time Hartlepool is once again in the international spotlight when we host the Tall Ships again next year, we will have a railway station fit for the 21st century."
Kerry Peters, regional director at Northern said: "The upgrades at Hartlepool station will greatly benefit our customers, providing better facilities and connectivity across the region and increasing accessibility."
The upgrade is due to be completed in time for the Tall Ships Festival in July 2023.
Click below to watch a timelapse of the platform demolition.