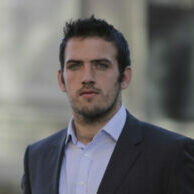 Story Contracting, which provides building, civil engineering and plant services to the Rail and Construction industries across the North of England and Scotland have formally appointed John Story as Finance Director.
John, who joins from sister company Story Homes where he was Land Valuation Manager for three years, will head up the central business services departments covering Finance, IT and Marketing.
John joined the family business in May 2014 at a time when it was growing at a substantial rate. John's first task was to secure financial arrangements for further ambitious growth. His ability to apply business plans and forecasts to the company's growth strategy has helped to enable a 28% growth in 2014/15 and an expected further 25% growth in 2015/16 taking turnover above £80 million.
Fred Story, Chief Executive at Story Contracting said;
"Our business is going through a significant period of growth and it is essential that we have the skills within our team to make it a successful journey. It is great that John has joined the family business and he will play a pivotal role in the shaping the company's future in the coming years."
John has also been appointed as a company board director with effect from the 1st January 2015.