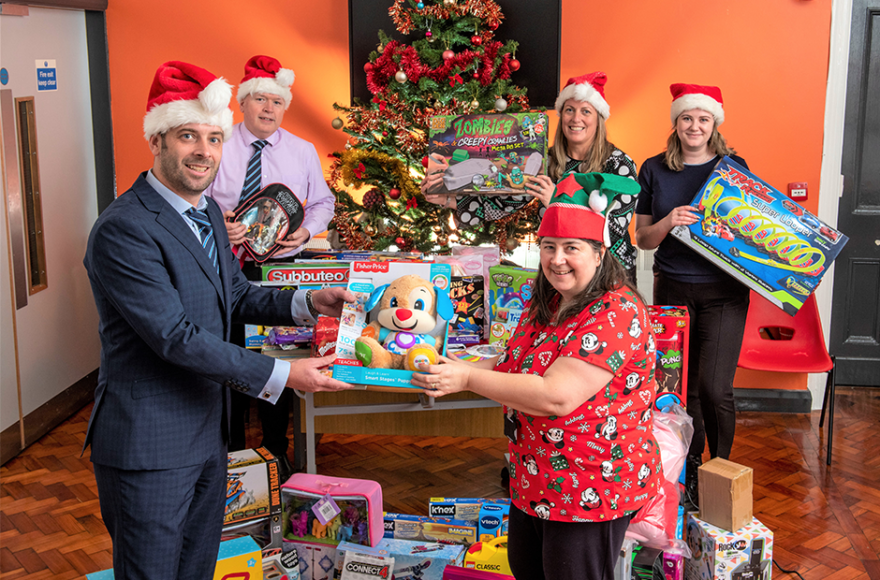 Five charities supporting those experiencing homelessness or struggling families have received festive backing from Story Contracting, its staff, clients, and fellow contractors.
In Carlisle, Story's hard work meant that six vulnerable young people had a safe place to spend Christmas.
The company donated its Construction team's skills and time to help renovate a property for charity Carlisle Key and get it ready to welcome young people in time for Christmas. In addition – with support from Capita and Carlisle Tri Club – they handed over more than £1,000 and lots of useful household items – from kettles to bedsheets.
Story Scotland joined forces with Network Rail and fellow framework contractors QTS and Bam to collectively raise £1,500 for the Simon Community Street Lifestyles project. A team spent a day volunteering in their warehouse and donated essentials from the Blantyre office.
In Manchester, the company, together with employees from the Chorley office, donated more than £1,000 worth of toys to Wood Street Mission, which provides Christmas presents for children between 0-14 years old who are most in need.
In Birmingham, together with strategic partner FJD construction, they raised £900 to help sponsor a Christmas Day lunch for those experiencing homelessness in the city. Around 120 people were expected for the day run by Crisis Skylight Birmingham and were receiving goody bags filled with everyday essentials, such as toiletries.
And similar generosity in Yorkshire, meant £500 going to charity Kitchen for Everyone York, allowing the charity to put on a Boxing Day festive meal for an estimated 60 people. They too handed out essentials, including roll mats for those sleeping rough.
Iain McNee, operations manager with Carlisle Key, said that without Story's support more vulnerable young people would have found themselves sleeping on sofas, floors or, in the worst situations, on the streets this Christmas.
He said: "This is such an important service. A lot of people don't have things that we take for granted. The young people who are moving in are very happy to be here, it's a really nice house.
"Story have backed us right through the year with the time that they've given. Stripping plaster, painting and decorating – all sorts really. They're a really handy team!
"They brought a new TV for the lounge and then they even came down and fitted the brackets so people could watch it. It's all made such a difference."
Birmingham Skylight co-ordinator Molly Luke said: "We owe a huge, huge thank you to Story for this donation, it is very much appreciated. We will use it to make sure that everyone has a special day."
Sophie Bell, Fundraiser at Wood Street Mission said: "Story's help has enabled us to support the thousands of families living in Manchester and Salford who struggle to make ends meet and need our help during the expensive festive period.
"One mum messaged us to say how much Christmas is a dreaded time for her but the help she received means she is looking forward to Christmas for the first time in ages, and can't wait to see her children's faces when they open their gifts."
Click the video below to watch a 'wrap up' of the Story Christmas Campaign!