Story Contracting, on behalf of Network Rail, have recently completed a multi-million-pound project to repair the iconic Royal Border Bridge in Northumberland.
The historic bridge in Berwick-Upon-Tweed is a 170 year old structure which sits across the River Tweed, and allows the transportation of freight goods and passengers between England and Scotland along the East Coast Main Line.
The project lasting just under 18 months has seen the team complete works including replacing brickwork, masonry maintenance and replacing metal straps across the 28 arches of the 40m Grade I listed bridge.
Story Contracting worked alongside RopeTech Access Solutions to save the project £5m and six months of work by utilising abseilers (engineers on ropes) and a cradle system to deliver the repairs. Read more about the innovative solution here.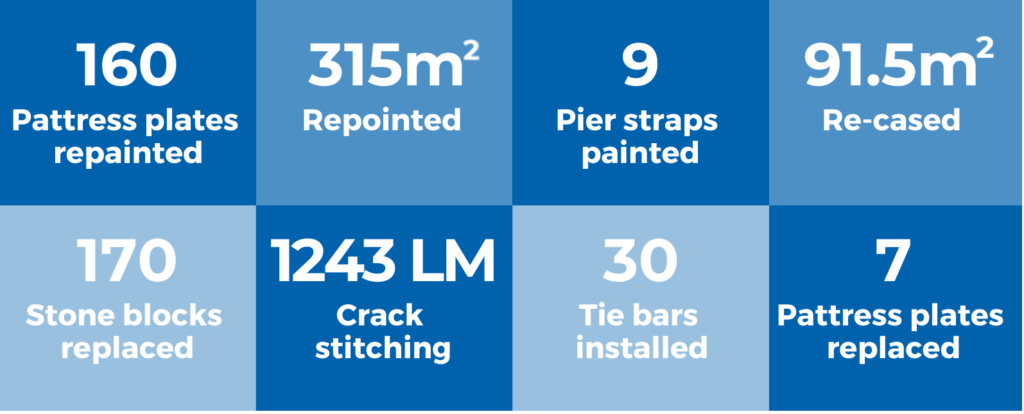 Sam Trickett, Scheme Project Manager at Story Contracting, said: "It has been a privilege to restore such an iconic structure on behalf of Network Rail. This scheme has been made possible by successful collaboration with our trusted supply chain which has enabled us to deliver this scheme utilising innovative solutions.
Thank you and well done to the combined team of Story, Network Rail Capital Delivery Eastern, the Route Engineer team and our trusted partner, RopeTech.
This is a great achievement and is testament to the hard work of the entire Story team. Despite the challenges faced, we always ensured that we 'do it right' and that we delivered a project for us to be proud of."
Click on the images below to enlarge them.