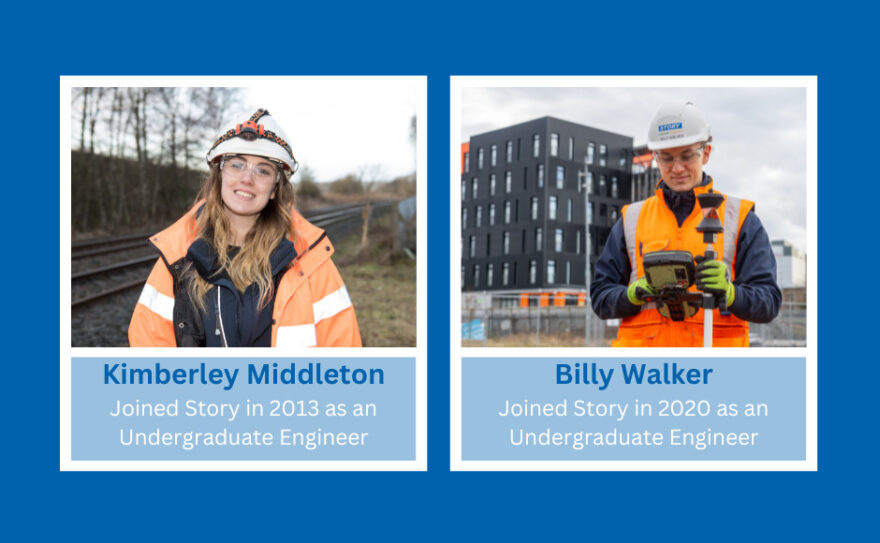 Story Contracting recognises and values its ability to contribute to the development of young talent within the industry, and supports this through the Story Early Careers programme.
In 2013 Kimberley Middleton joined Story on an undergraduate placement; since then she has progressed through the ranks to become a Project Engineer for the company.
In 2020, Story welcomed Billy Walker on a undergraduate placement. After finishing his studies at University, Billy returned to Story as a Graduate Engineer.
Reflecting upon their career journey, they answered some questions about their experiences so far:
What role are you currently in?
Kimberley: I have recently moved into the Project Engineer role after spending the last few years in Project Management. In my role I provide technical support to the project teams throughout design and construction.
Billy: I am currently working as a Graduate Engineer, working on Middlesbrough Station Upgrade and Selby Access for All scheme.
How did the placement help you?
Billy: Whilst I was working at Story throughout my placement I learnt a lot that I could apply to my university work, helping me massively in my final year.
Kimberley: The graduate scheme provided me with access to various roles within the company from Site Engineering to Project Management and even design. It gives you the opportunity to identify your strengths and what you enjoy doing. As the company has grown, new roles have developed including the project engineer role. I knew from my grad scheme that I enjoyed the engineering side of things so I decided to move from the operations team back into engineering.
Why would you encourage young people to choose a placement with Story? 
Kimberley: I found doing an undergraduate placement with Story allowed me to get a head start, when I came back full time I already knew the business, the people and I could confidently complete a range of tasks. It gave me construction experience which I used in several of my modules in my final few years at University. I think sometimes contracting has a bad reputation and at University we're often pushed down the designer route, especially for women, as you often associate contracting with being a 'mans world'. I was the only female in my team for about three years and not once did I ever feel like I didn't belong here, the team were really supportive. Now, there are more women within the company and we all support one another regardless of what role you're in.
Billy: The opportunity to join Story through a placement allows you to get to experience working on a wide variety of projects, giving you loads of experience for just one years work. I really enjoyed my placement year and learnt a lot giving me a head start on my graduate programme.
To find out more about our current placement opportunities click here.