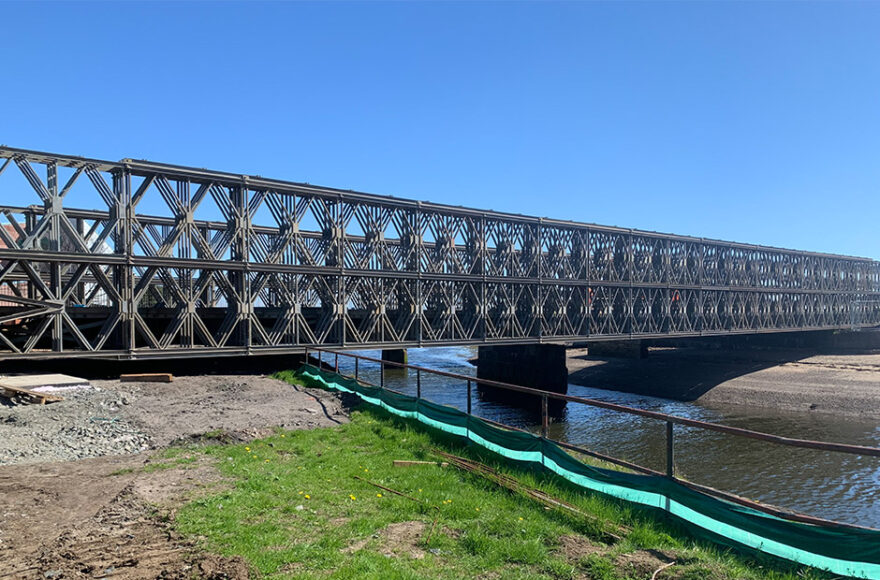 Network Rail has announced that the temporary bridge carrying traffic across the river during the demolition of the River Leven – Bawbee – bridge will open on Friday May 5 with an anticipated time of 15.00.
The diversion route takes traffic from the A955/B933 roundabout, through the swimming pool car park and across the river via the temporary bridge. Traffic will then join the existing road network at the new roundabout that has been constructed on South Street (B932).
The new temporary crossing, which has been funded by Fife Council, will support 18,000 vehicle movements per day during major work by Network Rail to demolish the old bridge as part of the Levenmouth Rail Link project.
The A955 road bridge sits above the site of the new Leven station and, given its location, the reconstruction is being delivered as part of the wider Scottish-Government funded programme of railway works.
Network Rail will replace the abutments and bridge deck of the weight-restricted 75-year-old road bridge which is suffering from significant deterioration and showing signs of chlorine contamination and corrosion.
Traffic management has been in place to allow utility companies to move services such as gas, water, telecoms and electricity off the structure and divert them to a temporary service bridge.
Sean Clemie, project manager for bridge works, said: "The opening of the temporary road bridge means we are much closer to demolishing the old section of the bridge – which is the focus for the project team.
"Alterations to the surrounding road network and construction of the temporary road bridge has been progressed quickly and getting it open means the road over the bridge can be closed.
"We can now move to prepare the bridge deck for demolition and start the rebuild. Following this we will then enable reinstatement of the utilities – essentially putting everything that is needed back on the bridge."
Councillor Colin Davidson, of Fife Council's Levenmouth Area Committee, said: "It's great to see work progressing so quickly. Opening of the temporary road bridge means we are edging closer to the demolition of the existing section of the bridge, which has been weight restricted for a considerable time.
"The temporary bridge will make a huge difference in minimising disruption in the area from the road closure.
"We appreciate the patience shown by local residents and the business community and I'd like to thank Fife Council transportation staff for their support during this difficult and complex project."
On completion of the works to Leven Bridge, expected to be in February 2024, the temporary diversion route will be removed and traffic will revert to the normal route over the new bridge.