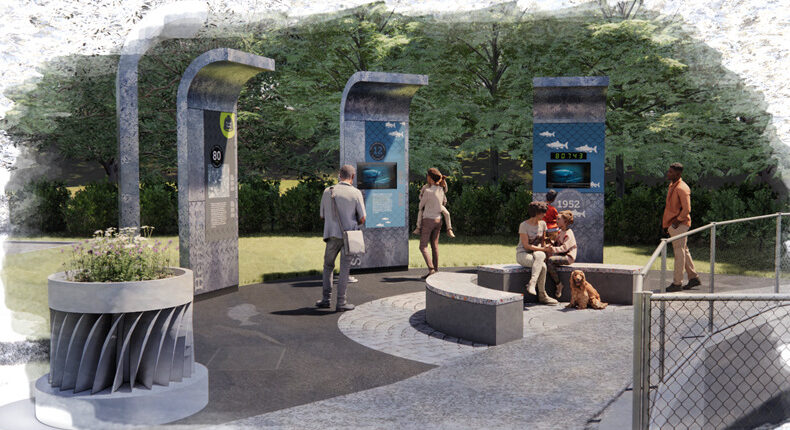 The works on the Observation Point at Pitlochry Dam and Power Station are now underway on behalf of our client, SSE Renewables.
The key attraction at the viewing point will comprise of four stainless-steel totems which have been designed by Edinburgh based company, Bright.
In addition to the stainless-steel totems, a new circular concrete seating area at the center of the viewing point will also be constructed which will provide visitors with spectacular views of Pitlochry Dam.
The new attraction is due to open in summer 2023 where visitors will be able to learn about the salmon lifecycle, how they make their journey each year and view fish counter statistics and live footage from underwater cameras.
Neil Lannen, SSE Renewables Director of Hydro Asset Management, said: "We are very excited to see construction work on Pitlochry's latest visitor attraction get underway. The addition of the new observation point will only enhance what is already a popular visitor attraction with works expected to be finished just ahead of the busy summer period.
"The new viewing facility will provide an excellent experience for visitors, as many people come to visit the Dam to learn about its history and how it operates. The totems will provide detailed information on how the fish ladder works and the lifecycle of salmon but will also offer a view into the salmon journey via the live feed on the built-in monitors and fish counter."
Roland Dent, Project Manager for Story, said: "We are very proud to be working with SSE Renewables on delivering the viewing platform project at Pitlochry Dam; which will bring knowledge and accessibility of this stage in the life cycle of the salmon to the public. The new platform will improve public accessibility and give improved educational and observational opportunities at this popular tourist attraction."
Ewan McCarthy, Creative Director for Bright, said: "Bright were delighted to be appointed by SSE Renewables to work on this new high profile visitor facility. The observation point provides an important focal point combining 3D, graphic and AV elements and has taken a lot of effort by the design team to develop something unique that would sit well in this prominent location.
"Being an outdoor facility brings its own challenges in terms of design to ensure it would be robust but also eye catching and engaging for a wide audience. Bright has been involved in a number of external interpretation projects across the UK and Ireland, but this is one we are particularly proud of."