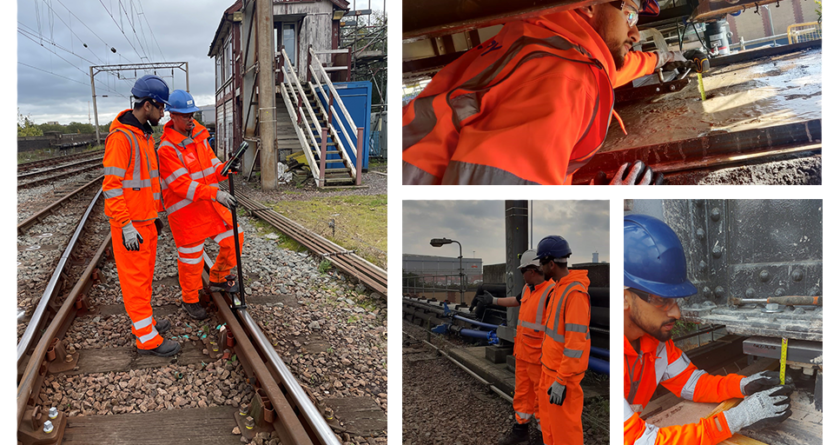 We are committed to hiring, training, and developing local residents.
Story Contracting offered Abdur Rehman a four-week on-site work placement to gain industry experience for his university application. He worked as an Assistant Engineer and had the opportunity to shadow and learn about the various team members' jobs and roles.
Abdur Rehman's typical day as an Assistant Engineer began with a survey of the embankment to look for changes that could jeopardise the site's safety.
He was then given the opportunity to go up to the track side with his supervisors to learn how to use various instruments (such as the total station and rail shoe) and experience the live rail environment.
During his time at Story Contracting, Abdur Rehman worked on the bridge's maintenance on London's Old North Circular Road. The structure is a brick bridge that spans over the old north circular road. On behalf of Network Rail, the project planned to use jacks and lift the main bridge section to install two new bearings underneath the bridge.
In the future, Abdur Rehman wants to pursue a Civil Engineering degree and believes that this placement at Story will help him get there. His long-term ambition is to become a Civil Engineer and work on projects that benefit society.
"Story offers a variety of opportunities, particularly for young students, which is why I chose to work here. I appreciated the fact that my placement at Story provided me with the opportunity to work as a Civil Engineer. I particularly learnt a lot in surveying the site with various measuring instruments. This was not only a new experience for me, but the skills I learned on this placement will help me in the future. Story has a reputation for ensuring the correct health and safety practises, so I knew from the get go, I'd be working in a safe and secure environment." – Abdur Rehman