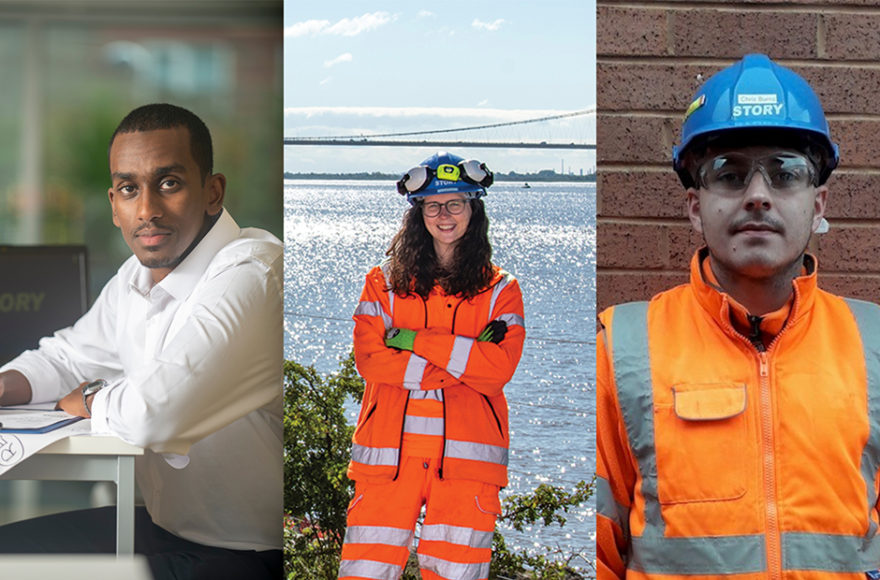 One year ago Story Contracting welcomed its latest cohort of graduates and trainees to the business.
Commencing trainee roles as Project Agents, Estimators and Engineers, the group have had the chance to contribute to Story's varied work bank across the UK over the past twelve months.
Lara Lightfoot, Graduate Engineer with the Eastern Rail team, is currently supporting the delivery of ground stabilisation works at Hessle Foreshore, Hull.
Lara said: "I've learned a huge amount about the railway industry (including a lot of acronyms!).
"The support offered to the graduates has been really great. It's clear that despite only being with Story for a short period of time, and having had no experience prior to this, my opinions and insight are valued and appreciated."
Extension works at Glasgow Queen Street and accessibility improvements at Mills Hill Station are amongst other developments that Hamza Mohamed and Chris Burns, Graduate Project Engineers for the North West and Central Rail team and Story Scotland, have been involved with.
Chris said: "Glasgow Queen Street provided me with the opportunity to shadow an experienced engineer, whilst I have also worked on several weekend disruptives which have allowed me to learn a lot in a short space of time due to the fast-paced nature of these works."
Though their introduction to Story has not been without its challenges, with the Covid-19 pandemic causing significant disruption to the working year, this has not dampened the graduates' enthusiasm to learn and progress.
Hamza said: "Whilst the COVID-19 crisis put a temporary halt to my development, I returned with an added determination to take full advantage of developmental opportunities and make up for lost time.
"My first year has been eventful, but also incredibly rewarding knowing that my engineering experience and competence is improving."
Story Contracting's graduate scheme stems from a commitment to invest in the next generation. After joining the business, the graduates are encouraged and supported to seek professional accreditation and work towards a Chartership in their relevant fields.
To find out more about Story's graduate schemes, click here.