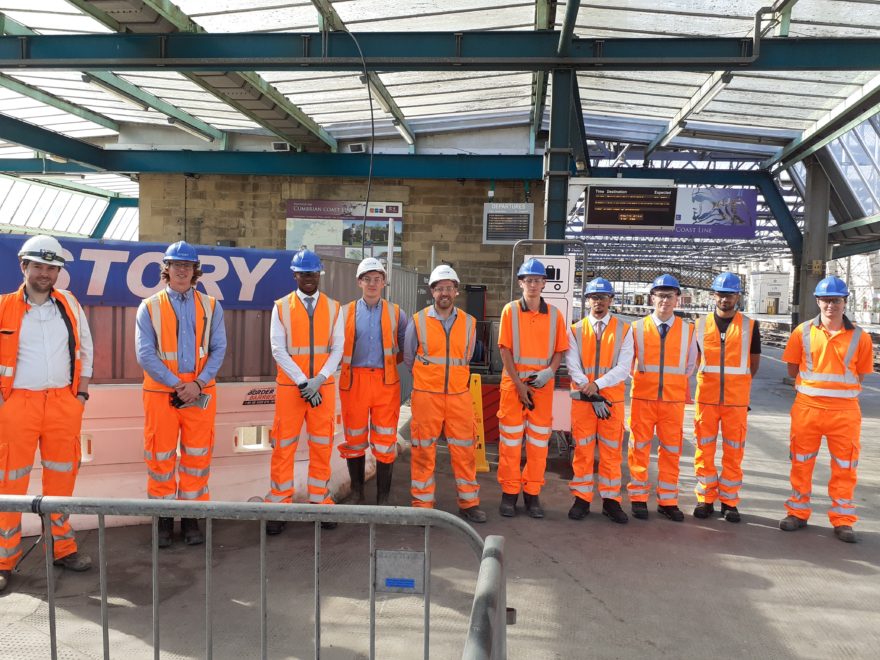 After successfully topping the undergraduate assessment and interview process earlier this summer, we are delighted to welcome four new undergraduates to Team Story as part of our commitment to investing in future engineers. Supplementing our already strong and growing graduate and trainee development programme – Segun, Bashar, Sufyan and Ross will join the Rail England division for the next year on an industry placement as part of their university courses. They will develop their technical skills, gaining experience in designing, planning and delivering our railway project whilst using the knowledge we have from our experienced team. These appointments will help us build on our success, bring fresh ideas and innovations, and add further capacity to our project teams.
I'm really looking forward to working all our new recruits and I hope you can play your part offering advice and support as they start their careers with Story!
James Hall, Regional Engineering Manager
Learn more about Story's new starters below:
Segun Okunrinboye
About me
My name is Segun Okunrinboye and I'm an Undergraduate Engineer. I study Structural Engineering and Achitecture (MEng) at the University of Sheffield and I've just completed my second year.
Attraction to Story
Having attended a STEM event and hearing from recent graduates who now work at Story, I really liked how much the company value people and invest in the training and development of their employees.
What I hope to gain
From this placement I'm really hoping to learn what it means to be a Civil Engineer and I'm particularly interested in seeing how work is completed on site, from start to finish.
My inspiration
I've always wanted to be successful and do the best I can in everything I do. I hope to make my family proud and be a good role model for the younger generation.
Future goals
My future goal is to become a successful Engineer and also a fully qualified Architect.
Bashar Omer
About me
Bashar Omer, Undergraduate Trainee Engineer, studying Civil Engineering at Coventry University.
Attraction to Story
I was attracted to Story because of the myriad of projects they've accomplished and how kind and friendly they were.
What I hope to gain
I hope to develop an insight into the real world of engineering and hopefully get my career onto the right track to achieve my goal of being a Chartered Civil Engineer.
My inspiration
I am inspired by companies and people who accomplish great things like Story and want to contribute toward them.
Future goals
My future goals are to grow as an engineer and become a fully chartered civil engineer and help innovate the sustainability aspect of civil engineering.
Sufyan Asghar
About me
Sufyan Asghar, Undergraduate Civil Engineer, studying Civil Engineering at UCLan.
Attraction to Story
I was attracted to Story because of their hard work and determination throughout all projects. Especially the way they have responded to challenges during Covid 19 and ended up with a huge turnover.
What I hope to gain
I am hoping to gain real life experience and practical skills during this placement, so I can apply this further in my 3rd year as well in the future.
My inspiration
Learning new skills and being challenged on a daily basis inspires me, as I enjoy challenges as well as overcoming them. I enjoy pushing myself above and beyond, especially beyond my limits.
Future goals
My future goals are to become a Chartered Engineer for Story, as well as work myself up within the company to a senior position. I want to learn as much as possible throughout the years to aid my professional development.
Ross Macnab
About me
My name is Ross Macnab, I am an Undergraduate Engineer and I study Civil Engineering at Leeds Beckett University.
Attraction to Story
What attracted me to Story was how team focused they were, and how the company strives to success and wants to get the very best potential out of all their employees. Their 5 key values are exactly what I want to see in a company, as they make the workplace a great environment.
What I hope to gain
I hope to gain real in depth knowledge into Civil Engineering and the rail industry and really put into practice what I have studied in the past two years. I hope to finish the placement as a better developed person with more confidence and to have a better understanding of the working environment. Furthermore, I want to come out of the year at Story thinking I have used every bit of my time to the best I possibly can in gaining the best experience and to have achieved what I wanted.
My inspiration
Success inspires me, I always want to achieve more and have targets that I want to reach. I feel it's hard to get to where you want to be in life without putting the effort in. I want to my make myself proud that I have got to where I want to be or at least on that path and also knowing that I have worked for something, it can show me that I can achieve more and push myself further.
Future goals
My future goals are to have a successful life and career in civil engineering. Hopefully always making the next step up in my career. I would also like to pass on the knowledge I have gained over the years to the next generation of young engineers.