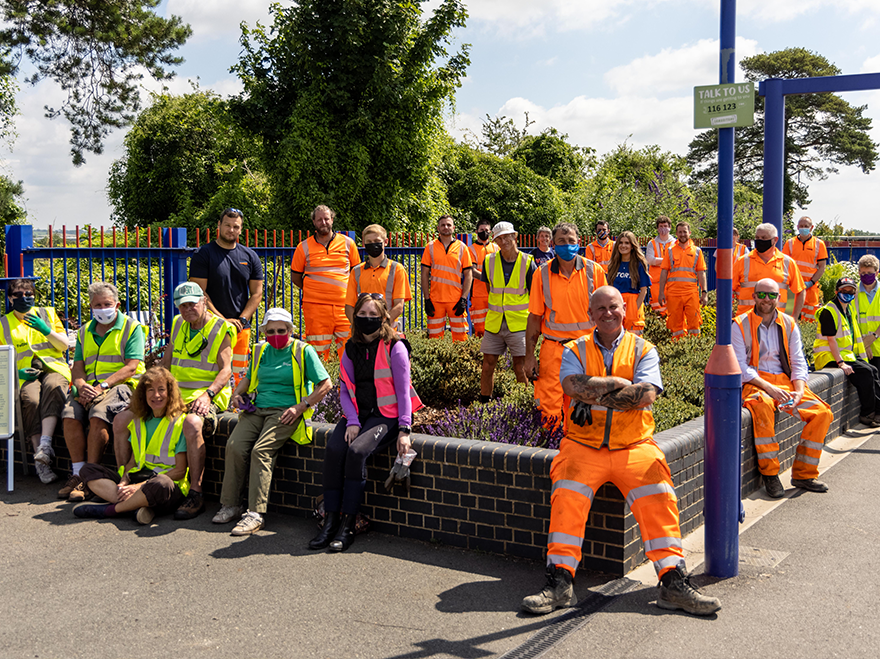 Over the last 7 months, Story Contracting have been working alongside Network Rail on a project to deliver two brand new underbridge structures in Bicester for Oxfordshire County Council. The structures carry the Chiltern twin track railway line and will help traffic and people move more easily around the town in the future.
As part of Story's commitment to being a good neighbour, they joined forces with their friends at Network Rail and Bicester Green Gym to makeover Platform 2 of nearby Bicester North Station. This included the donation and installation of three bespoke planters with new flowers and shrubs to brighten up the platform. The team worked together to weed, plant bee-friendly flowers and spread fresh bark to create a new pathway in the station garden for passengers to enjoy.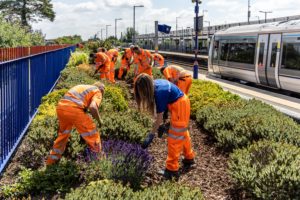 Bicester Green Gym is a community group with the aim of getting fit physically and mentally by working outdoors and seeing the improvements that can be brought to the environment.
Bea Foster, Secretary of Bicester Green Gym said: "We are so pleased with everything that's been done to Bicester North Station – thank you to Story Contracting and Network Rail for literally going the extra mile to help us out!"
Michael Bell, Senior Site Manager at Story Contracting worked with the group to organise the community volunteering day. He added: "We're proud to support the great work that Bicester Green Gym do for the town and it's people. We hope that our donation of planters and flowers bring some colour to platform 2 and help brighten up the days of passengers travelling through the station."
The underpass project is due to be fully completed by Story Contracting by the end of July.
Further volunteers are invited to join Bicester Green Gym at the station and on other projects. Please visit www.bicestergreengym.org/fobns to find out more and to get in touch.
You can read more about the Bicester underpasses project here: www.storycontracting.com/underpasses-built-under-bicester-railway-this-easter/