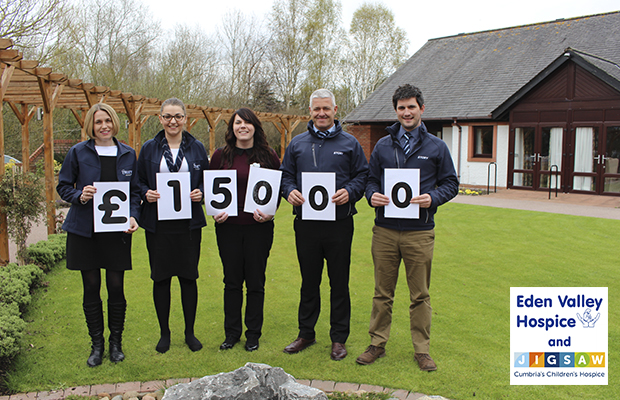 A charity partnership between two Story companies and Eden Valley Hospice with Jigsaw Children's Hospice has raised £15,000.
For the past twelve months Story Contracting and Story Homes have been supporting the local hospice and employees have raised the magnificent sum of £15k.
From cycling challenges to bake offs, employees have spent the past year not only having fun but also raising funds for a charity which touches people's hearts and lives. Eden Valley Hospice provides care for adults with life limiting illnesses from North Cumbria.
The two companies came together to encourage its employees in fundraising activities and Fred Story founder of Story Contracting and Story Homes, said : "I am proud that we've raised such a great amount for a local charity that provides support for loved ones and carers enabling them to live life as fully and as independently as possible. It's great to see the energy, quite literally in some cases, that staff have put into organising and taking part in activities to raise money for a great local charity."
Natalie Bingham, Corporate Fundraiser from Eden Valley Hospice praised the efforts from Story colleagues by saying: "Everybody at the hospice is delighted with the fantastic amount raised from the team at Story. Their passion and commitment has not gone unnoticed and we are very grateful for all of their support. Partnerships like this are so very special to the hospice and the money raised will go a long way to help the patients that we care for."
Story Contracting and Story Homes have committed to raising funds with charity partnerships over the last few years, previous local charities include Hospice at Home Carlisle and North Lakes and Carlisle Mencap.