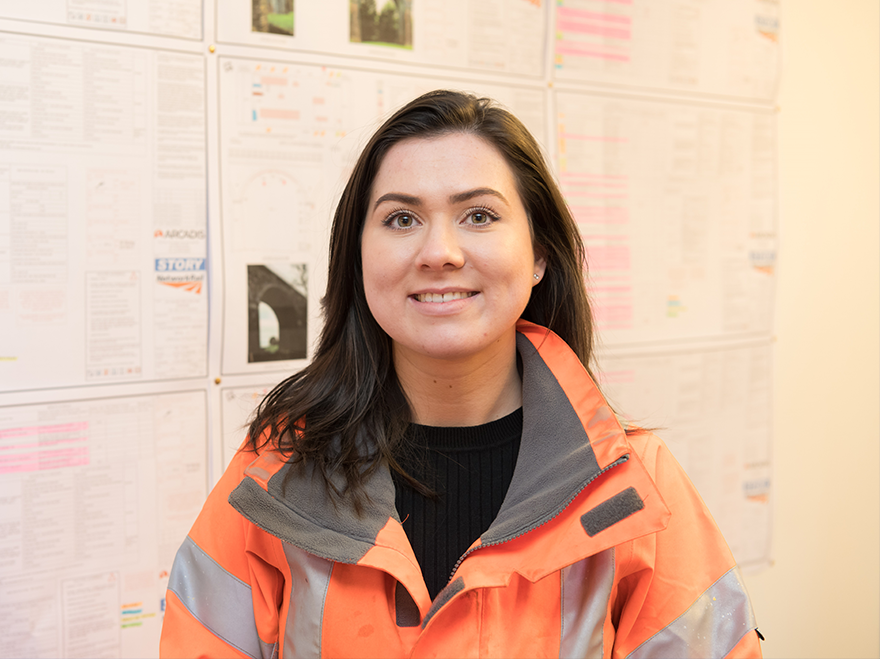 Since beginning the Story Contracting Graduate Scheme in July 2017, Victoria Cousin has flourished in her career.
Due to finish our Graduate scheme at the end of the year, 23-year-old Victoria is currently shining in a six-month secondment with Atkins.
Victoria said: "I'm currently working on the detailed design for a single span masonry arch overbridge near Aberdeen, carrying an unsurfaced farm access road over the twin tracked non-electrified trainline between Stonehaven and Portlethen."
On the placement Victoria has the opportunity to follow the project through its entirety.
"This project is due to be in its construction phase at the end of the year and I will be working as part of the Story team to deliver it which will be a great experience for me to be involved in a project from design stage right through to completion on site."
She added: "As well as working on this bridge I have spent some time in the various departments within Atkins to gain an appreciation of different types of design including: scour protection, geotechnical and ecological, rail, civils and OLE.
"After my placement at Atkins I will be continuing my design secondment with MHB consultants and focusing mainly on temporary works designs."
As part of her role in Story, Victoria is a STEM ambassador:
"I think there needs to be more awareness of engineering careers in general at an earlier stage (probably at high school stage) and what potential job roles you could have.
"When I made my choices for university I had no idea what engineering was or what kind of job I could get with an engineering degree and luckily for me it has all worked out and I really enjoy my job, but I think if more people knew what opportunities there they are would go for engineering.
"So, I would suggest continuing to share success stories and encouraging students to try work experience or placements to get a realistic idea of the kind of work they could be involved in."