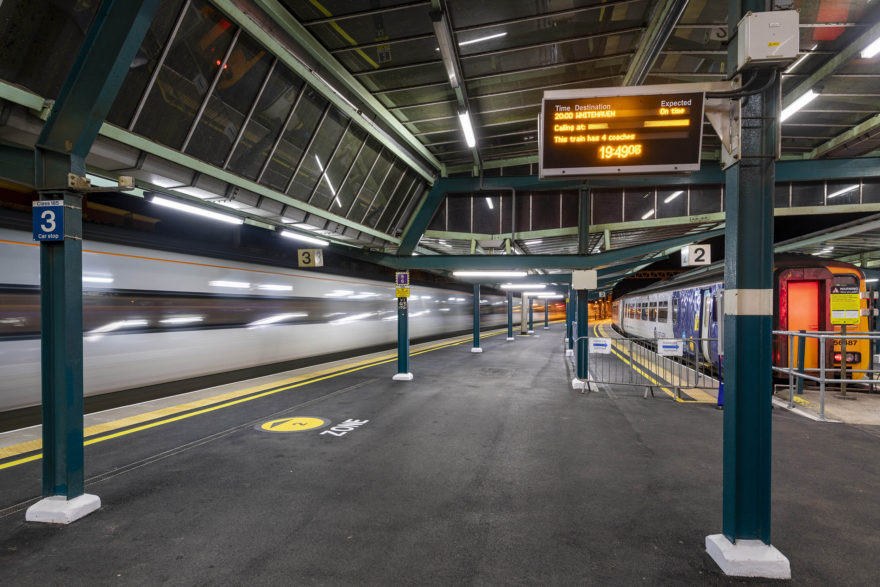 Rail passengers in Cumbria are benefiting from newly resurfaced platforms at Carlisle train station.
Story Contracting, on behalf of Network Rail has carried out a major refurbishment project that has seen platforms one, two, and three overhauled at the Avanti West Coast managed station.
The platforms have been brought up to 21st century standards, with better drainage, a completely level surface, and the gap between the platform edge and trains made smaller. New 'tactile' paving at the platform edges also improves accessibility for passengers with visual impairments.
Dan Smithson, Senior Project Manager, Story Contracting, said: "I would like to take this opportunity to personally thank the full Site team, which included operatives from Rail England, Construction, Plant, and a couple of key subcontractors for all their efforts throughout the project."
Joanna Fielding, Scheme Project Manager, Network Rail, said: "It's great to see this multi-million-pound revamp to Carlisle station's platforms finished and being used by passengers."
John Stevenson, MP for Carlisle, said: "I am delighted to see the results of investment into platforms at Carlisle station. The need for tactile surfacing was one of the issues I lobbied for, so it is wonderful to see the platforms brought up to modern standards and fit for all users."
In addition to the project, Story delivered Caithness flagstones from Carlisle Station's original platforms to a site at Barrow Station, where Northern Rail have created a memorial garden to honour those who died as a result of COVID.
Chris Jackson, Regional Director, Northern Railway, said: "Many thanks for your support of our community garden and memorial project at Barrow. It's greatly appreciated."
The Carlisle Station Gateway project is being developed jointly by Cumbria County Council and Carlisle City Council working with Avanti West Coast, Network Rail, and Cumbria Local Enterprise Partnership as key partners.
Cumbria County Council is taking the lead in the delivery of the project to strengthen the role of Carlisle station in improving connectivity to the Borderlands region.