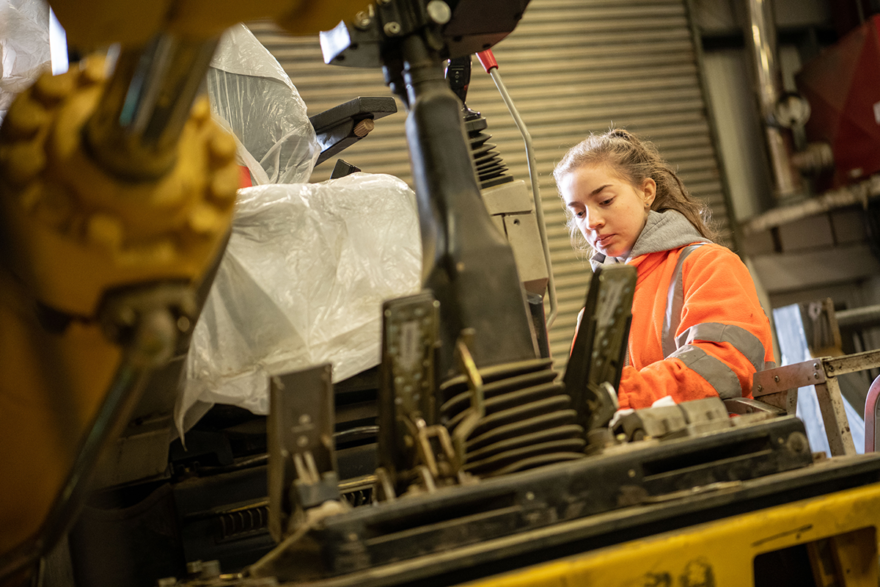 As part of its largest ever intake of graduates, trainees and apprentices, Story Contracting has welcomed its first female plant refurb electrician, Mariah Corfield.
The recruitment of Mariah is an important step for the award-winning infrastructure company in encouraging more females to apply for roles in the construction industry. As an apprentice plant refurb electrician, Mariah's role involves wiring the many machines and attachments within the workshop as well as general fitting tasks like assembling machine parts and other refurbishment activities.
When asked why she chose an electrical apprenticeship, Mariah explained: "Before I joined Story Contracting I was an electrical technician at M-Sport. I was interested in broadening my electrical knowledge and gaining more of an understanding of how and why things are wired the way they are. I was also looking for a more hands-on role where I could be amongst it all.
"The apprenticeship with Story Contracting suited what I was looking for in terms of the job role, and it is also a company that is well regarded as a good employer that could to help me progress my career."
Story Contracting's apprenticeship scheme includes a full time position within one of the company's five divisions – Plant, Construction, Rail, Story Scotland and Reiver Homes. The apprentices will also attend day release at a local college to work towards gaining a National Vocational Qualification (NVQ), enabling each apprentice to master their trade.
Mariah continued: "I would certainly encourage other females to join this industry as there are a vast amount of opportunities available. This industry offers exciting and rewarding careers which are thriving due to advances in technology, so why shouldn't females get involved?"
Jason Butterworth, CEO of Story Contracting, said: "Whilst it cannot be denied that construction is a male-dominated industry, our business is committed to investing in future female talent. We feel it is important to actively promote women working in construction and engineering – not only to attract more females to Story Contracting, but also to encourage more women to enter the wider industry.
"There is often a pre-conception from young people that the only careers available within our business are suitable for men, but we work hard to dispel this myth and we are committed to showcasing the breadth of roles available at Story Contracting for women.
"I am very pleased to welcome Mariah, along with the other 12 apprentices, into our business and we look forward to helping them grow and develop their careers."