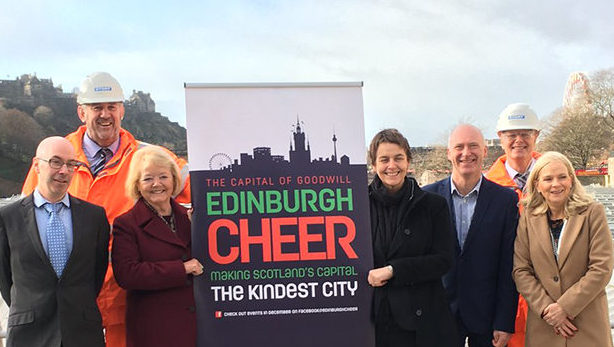 Story Contracting has donated 50 wellbeing hampers to those in need, as part of the 'Edinburgh Cheer' campaign. The hampers were made up of a variety of food items and toiletries from Tesco and were donated to homeless people in Scotland's capital city. Story Contracting is currently completing station improvements at Edinburgh Waverley station and according to charity Streetwork, there are approximately 70 homeless or rough sleepers in close proximity to the station.
Edinburgh Cheer is a partnership with a simple aim at its heart – to help to make Scotland's capital the kindest city it can be during the festive period. The campaign has been launched by Edinburgh's two major football clubs – Heart of Midlothian FC and Hibernian FC – who have come together to host a series of events to help those who are homeless, suffering poor mental or physical health, or who are isolated or forgotten at this time of year.
On 11 December, Story Contracting will also be working with its client Network Rail to host a "coffee and breakfast cheer" event at Edinburgh Waverley, with hot drinks and rolls available for visitors.
John MacArthur, Director of Story Scotland, said: "Christmas can be a joyful time of year, with the chance to see family and friends, exchange gifts and have some fun. But for those who are struggling or having a difficult time, it can be extremely challenging. As a business, Story Contracting endeavours to be a good neighbour and to support the communities in which we work. We are also committed to employability in Scotland and helping those who have gone through a difficult patch to get back into work. We hope that the 50 hampers donated to Edinburgh Cheer will help support those who are less fortunate and bring them some much-needed hope this Christmas."
Well done to #teamstory and all those involved in this worthwhile initiative.