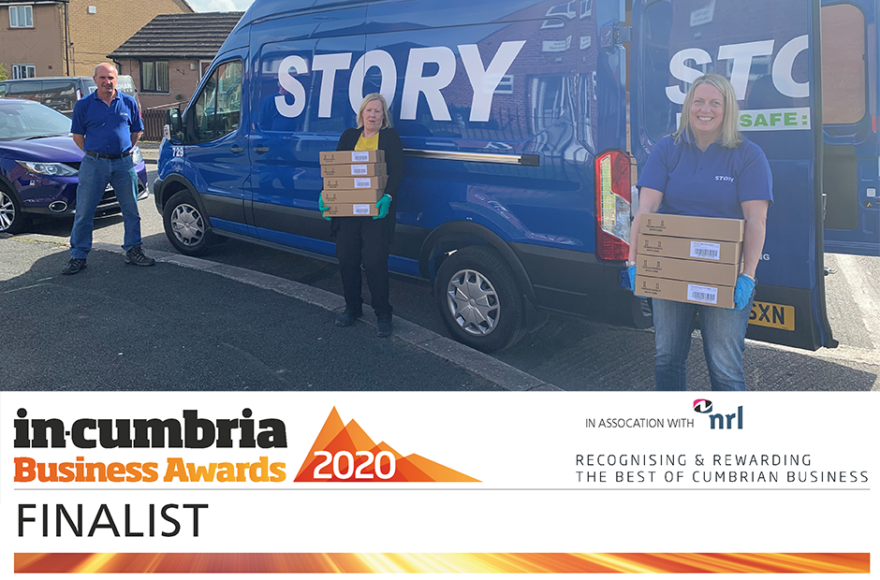 Story Contracting has been shortlisted for the 2020 In-Cumbria Business Awards.
The company is in the running for the Best Community Involvement Award which seeks to recognise a business that demonstrates a proactive commitment to investing in their local community.
The award for Best Community Involvement particularly acknowledges the support given to communities in the midst of the unprecedented and difficult circumstances caused by the Covid-19 pandemic.
Over the past six months, Story's employees have put in over 1000 volunteering hours and donated over £3000 to support vulnerable communities, key workers and emergency services across the county.
Foodbank, aid package and PPE donations and deliveries are only some of the initiatives that Story has been involved with, working in collaboration with Cumbria County Council, Carlisle City Council, Cumbria CVS and other local support groups.
In order to ensure that local school students remained engaged and inspired throughout the pandemic, Story also launched a one-of-a-kind virtual Story Summer School, welcoming ten 15-18 year olds for a week of online business masterclasses.
The winners will be announced at the Business Awards on Thursday 12th November, which will be held virtually for the first time ever. Held in partnership with NRL and sponsored by a range of local businesses, the awards will conclude a six-month search to identify and reward the best of Cumbrian business.