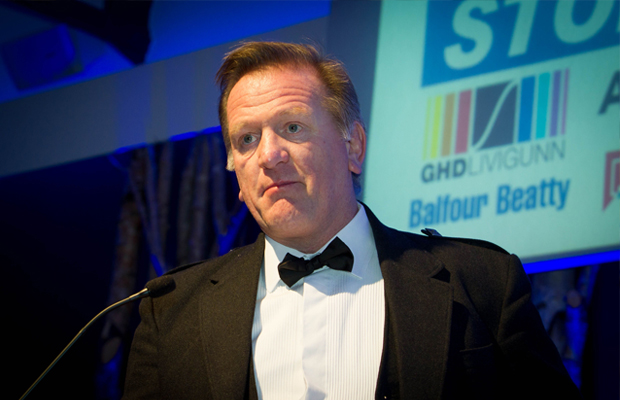 Story Contracting were proud to support the Institution of Civil Engineers (ICE) as principal sponsor for the North West Annual Awards presentation.
For the first time in five years, the Institution of Civil Engineers (ICE) held its Annual Awards presentation in Cumbria.
The awards were presented during a prestigious dinner at Carlisle's Halston Hotel on Friday 26 February by Sir John Armitt, current President of ICE, former head of Network Rail but probably best known as the man who delivered the 2012 London Olympics.
And Cumbrian projects this year made up almost one-third of the project entries – six nominations out of a total 19 from all around North West England and the Isle of Man.
Gareth Scott, Carlisle-based Chair of the Institution of Civil Engineers North West, said:
"Our Annual Civil Engineering Awards are the highlight of our year, and it's great to bring the presentation ceremony back to Cumbria – not least in a year where almost a third of the project entries are from Cumbria."
Cumbria's nominations for the 2016 awards are:
A £2.8m Furness roundabout scheme designed to cut accidents and boost regeneration (the A590 Greenodd Roundabout).
A hi-tech motorway marking scheme to improve safety and driving conditions at several sites on the M6 between Junctions 37 (Kendal/Sedbergh) and 45 (north of Carlisle).
A £9.5m car park scheme that paves the way for a new GSK biopharmaceutical plant at Ulverston.
An Ulverston sewage project nominated for both the Medium Project Award and the Community Award.
A Community Award nomination for collaboration between Kier Highways and the Recycling Lives charity, covering Cumbria and North Lancashire – slashing construction waste while creating local jobs.
Also, for the first time ever, this year ICE North West presented a Civil Engineering Heritage Award – and nominations included the Hodbarrow sea defences at Millom, built originally to protect mining operations but which now protect an RSPB bird sanctuary.
Darrell Matthews, North West Regional Director of the Institution of Civil Engineers, said:
"We hold these awards every year to showcase the best of civil engineering from around North West England and the Isle of Man, and it's great to see such a strong showing from Cumbria. Between them, the Cumbrian projects nominated for this year's awards show how civil engineering can save lives, improve road safety, support economic regeneration, serve local communities and help protect the natural environment."
Story Contracting's Construction Director Alistair Grant presented Large Project of the Year Award to Victoria Station Redevelopment, Manchester. The complex £44 million redevelopment transformed the grade II listed structure into a leading example of a successful, fully integrated transport hub, recognised as a flagship for northern investment. Congratulations to Network Rail, Morgan Sindall and Arcadis.
To view our This is Civil Engineering showreel
View the full list of winners