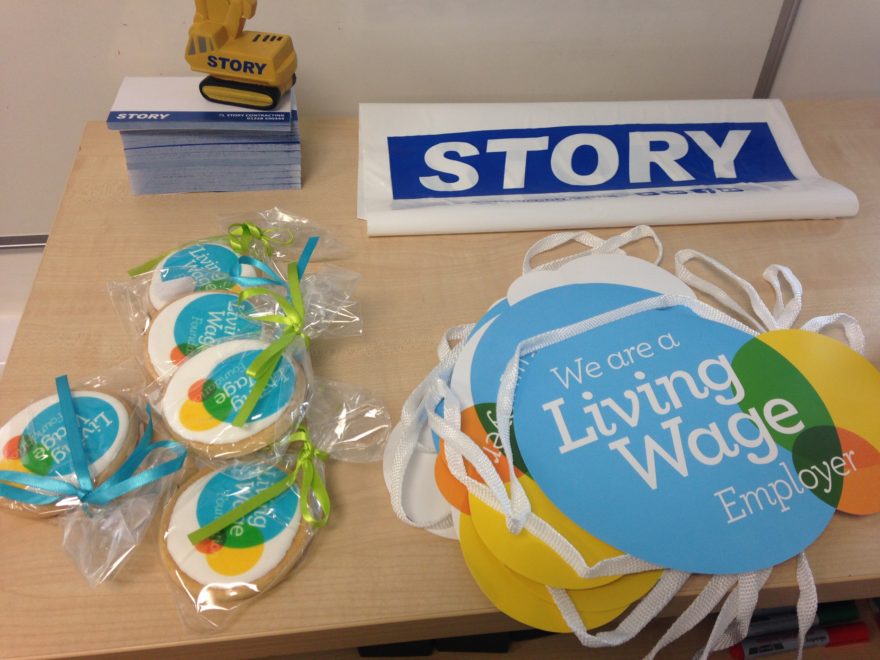 The Living Wage Foundation is pleased to announce that Story Contracting has been accredited as a Living Wage employer. Story Contracting is the first construction company in Cumbria to do so and only one of 6 in the whole of the North West.
The Living Wage accreditation was granted in September and now sees everyone working at Story Contracting, regardless of whether they are permanent employees or third-party contractors and suppliers; receive the living wage of £7.85 rising to the new increased rate of £8.25 in 2016 – significantly higher than the national minimum wage of £6.70.
The Living Wage is an hourly rate set independently and updated annually. The Living Wage is calculated according to the basic cost of living using the 'Minimum Income Standard' for the UK. Decisions about what to include in this standard are set by the public; it is a social consensus about what people need to make ends meet.
Caroline Reilly, Programme Manager, Living Wage Foundation said:
"I am thrilled with the leadership Story Contracting are showing in making a firm commitment to the Living Wage. Living Wage employers in the construction sector embedding the Living Wage into their business means this too will be embedded within their vast supply chains. The local community set to benefit wherever they do business too, it really is good news for people and families in the local area and we hope it inspires more to follow them."
John Story, Finance Director at Story Contracting said:
"We are pleased to be one of the first businesses in the Construction sector to commit to being a Living Wage employer. Although we had very few employees below the Living Wage, the change is still a significant one for those individuals and for us a responsible employer. This is not just a campaign for big PLCs and we are proud to now carry the Living Wage Employer Mark."
Employers choose to pay the Living Wage on a voluntary basis. The Living Wage enjoys cross party support, with public backing from the Prime Minister and the Leader of the Opposition.