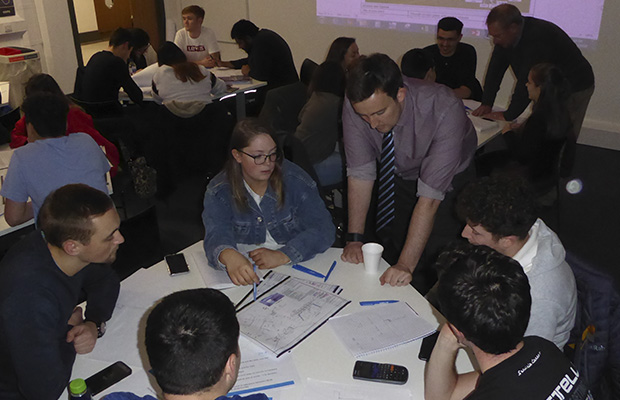 Story Contracting has been helping to shape engineering stars of the future.
Scheme Project Manager David Kellighan and Project Manager Duncan Sooman, who are based at the company's Uddingston office near Glasgow, attended the University of Strathclyde to deliver an evening workshop for their Civil Engineering 4 Real (CE4R) programme.
The initiative involves companies like Story Contracting going to the university to present a problem for students to solve.
David and Duncan split 35 students into groups of five and set them the task of creating a programme and risk table for a proposed bridge replacement scheme. They then discussed the proposals from each team and the innovative solutions they had come up with.
David said: "We also delivered a presentation about Story Contracting and showed them a time-lapse video of one of our projects. It was a really enjoyable session and we received some great feedback from the students and their lecturer."
Mike Murray, from the University of Strathclyde's Department of Civil and Environmental Engineering, said: "The students considered Story Contracting's presentation and their involvement in resolving the problems to be highly interesting and inspirational.
"Story's assistance helps us meet the requirements of the Joint Board of Moderators who are the organisation responsible for accrediting civil engineering courses in the UK."
What the students said:
"A very interesting workshop which spurred my interest in working in the rail industry."
"It was a very interesting experience, different to what we usually do at university. It made me think outside the box."
"I very much enjoyed the workshop as it is the field of engineering I would like to join after graduation. The guests made the topic very interesting."
"Both David and Duncan were extremely helpful and they made the workshop a very enjoyable experience."