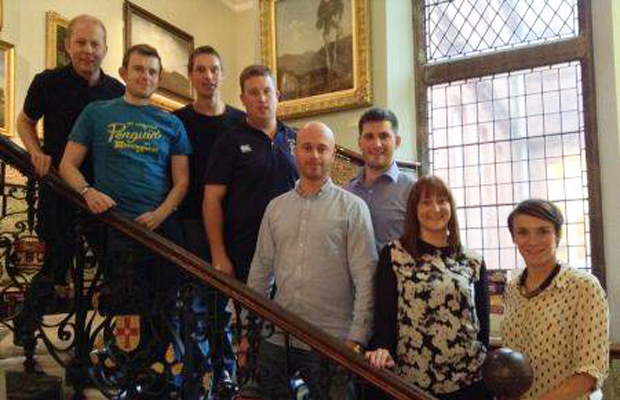 Seven employees have been chosen to embark on the first Management Development Programme delivered by Story Contracting. This week saw the launch of the 'Story Manager' programme at Tullie House Museum where each of the aspiring future leaders were supported in developing their management skills.
This programme, developed internally by Shelley Hayward, Learning and Development Manager at Story Contracting will take each of the seven candidates through an innovative programme of management development. The programme consists of three modules that run across a two month period which explores the types of leaders Story Contracting need to grow, how to motivate teams, get the most from team members and how to deliver results in a time of change.
Story Contracting had a great response internally for this pilot programme and the initial seven candidates were chosen based on their potential and desire to develop in the business.  During the course of the programme all candidates will be asked to explore real-life challenges faced as a leader. The training will encourage delegates to apply the skills that they learn to make a positive difference in their job and the teams they work with currently and in the future.
James Haile, Workshop Manager for the Plant Division at Story Contracting said;
"The programme is really going to support my progression with Story Contracting and help shape me into the best manager possible. The training is a two way process and by personally progressing my career this will support the business to grow. It's great to be invested in and given the time to think about developing with the business and how I will go forward to lead at Story Contracting."
Shelley Hayward, Learning and Development Manager at Story Contracting said;
"Our Story Manager Programme looks to recognise the future leaders we have here in our business. By helping our team develop through specialist-led training and support we can help individuals make the transition from a valued team member to an inspirational leader. The training is a blend of management and leadership theory with practical activity that will see delegates gain confidence and empowerment by using their new skills away from the workplace.  It's great to be part of a business that truly recognises the importance of developing in the future."
The Story Manager programme forms only part of a crucial staff development initiative to help Story Contracting thrive during a significant period of growth. At the beginning of the year the 'Evolve' programme was launched setting out what 'Great' looked like. The wider  programme looks at all aspects of employment with Story Contracting including; recruitment, induction and career development right the way through to rewarding and recognising great performance.
Fred Story, Chief Executive of Story Contracting said;
"As a business we must fulfil our potential and to do this we have to ensure that we fulfil the potential of our people. It is critical that we retain, engage and motivate talent to drive our ambitious growth plans. The volume of internal interest in this development opportunity is testament to the progressive ethos and culture within our team at Story. It is great that we can establish and grow the next generation of leaders in our business from within. This programme is only the start of an ongoing commitment to develop our workforce as our business grows. "