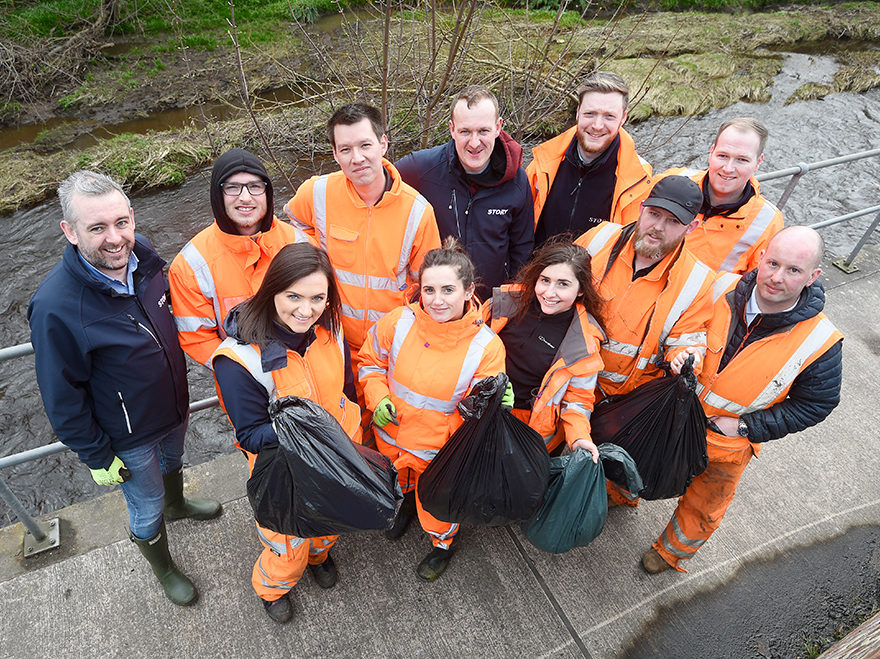 As part of our commitment to the communities in which we work, a team from Story Scotland has helped clean up a stretch of the Water of Leith, and support 'Story Community Days' to give our staff the opportunity to volunteer.
Story's team recently spent several weeks refurbishing a bridge on Anderson Place for the City of Edinburgh Council. During the project, which included strengthening and painting the bridge, the work site and area around the bridge was affected by the flooding during Storm Ciara.
Story's team volunteered to join forces with the Water of Leith Conservation Trust and representatives from the council to carry out a river clean-up on Wednesday (11 March).
The clean-up included using a boat and wading into the river around Anderson Bridge to gather litter from inaccessible places, scraping path edges to improve the width of the walkway, removing buddleia from the dock walls, and donating and planting bedding plants.
John MacArthur, Managing Director, Story Scotland, said: "The storm caused the river around the bridge to flood, which not only affected our worksite but also created a lot of damage in the area. Our team was keen to be a good neighbour and it was great to team up with Water of Leith Trust and the council to clean things up and do our bit for the community."
"We support 'Story Community Days' which provides our staff with the opportunity to volunteer to dedicate their time to local projects. We believe strongly in helping to improve and contribute to the communities in and around our operating areas and we feel this policy will be beneficial both to the individuals and also the communities in which we work."
Charlotte Neary, Community and Volunteers Officer at the Water of Leith Conservation Trust, who led the group, added: "The river is a valuable resource for both people and wildlife in Edinburgh. The Leith end of the water course suffers from a build-up of litter as it is at the mouth of the river and everything from the whole river can get washed downstream, particularly during storms.
We are very grateful to work with staff from Story to clean-up this stretch of river and for the donation of plants native to freshwater riverbanks in this part of Scotland from Granton Hub. These plants have been placed in the beds beside the walkway upstream of Anderson Place with a hope to increase plant biodiversity to encourage pollinators."