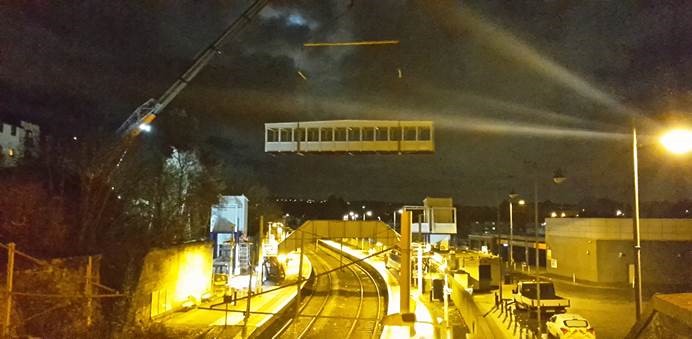 Story Contracting and our specialist steelwork fabricator M&S Engineering have successfully installed the structural steelwork sections for the Access for All scheme at Hamilton Central Station.
Steelwork installation was carried out over two Saturday nightshift possessions which also required a road closure on the nearby Kemp Street to facilitate the 300t crane set up position.
In order to minimise possession working, the lift shaft structures were delivered to site fully clad on the roof and 3 sides, reducing the amount of cladding works required to be completed on-site.
A tandem lift with a 300t crane and supporting 60t crane were used to lift the shafts.
The work over the two night's consisted of the installation of:
2No lift shafts 
3No bridge support trestles                                                                                                            
2No staircases
1No bridgedeck
The largest lift over the two nights was the installation of the bridge deck with a weight of 20t at 28m radius.
Well done to the site team in achieving this key milestone on the project.
"Network Rail and the key stakeholders were impressed and delighted by the safe delivery of the latest phase of Access for All work at Hamilton Central station. The installation of the structural steelwork was carried out over two Saturday night Rules of the Route possessions, thus avoiding disruption to train services. This impeccable delivery bears testament to the excellent planning and preparation of the team. Congratulations and well done to everyone involved"
Michael McArthur (Scheme Project Manager, Network Rail)