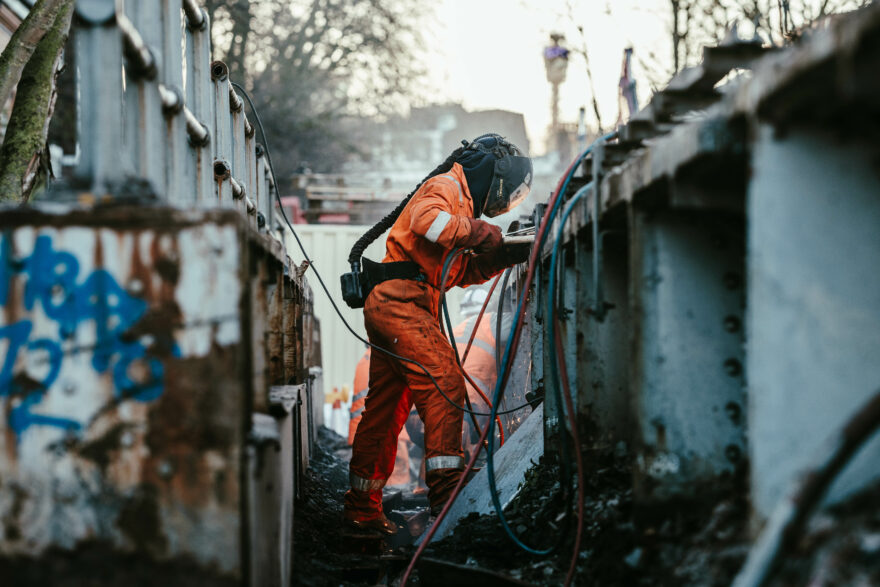 In December 2022, on behalf of Network Rail, Story Contracting replaced a railway bridge which carries the West Coast Main Line over the Regents Canal in London.
In December 2022, the Story team undertook the complex replacement of LEC1/9E Regents Canal bridge situated just outside of London Euston, a critical element of Network Rail's Christmas works delivery.
Network Rail and Story worked closely with design partners to deliver an innovative split bridge structure (a steel E-type deck) allowing for two tracks to be carried across the structure, along with a novel hanger beam to support the vast amount of cable infrastructure and maintain a driver's walkway for future use. To achieve this, engineers navigated numerous challenges including access constraints and the discovery of an orphaned tunnel and existing retaining wall.
To help with the installation of the structure, 28 piles were installed in the centre of nearby Gloucester Avenue to enable the 650Te mobile crane to sit over the top Fitzroy bridge (adjacent to LEC1/9E) and complete 40Te lifts at a 30m radius. Barges were also utilised to reduce congestion on the nearby roads, moving material to and from the worksite via the canal network.
Watch the video below to see the new structure installed, allowing Network Rail and train operators to provide passengers with more reliable journeys to and from Euston Station.