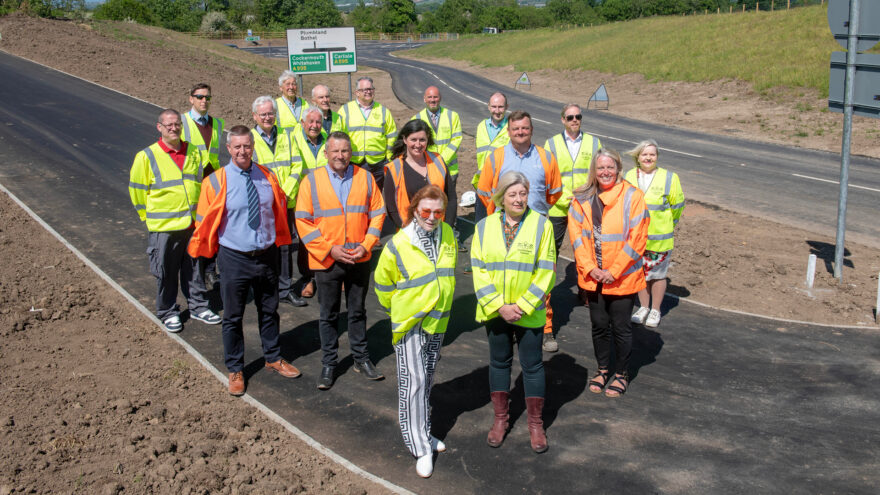 Wednesday 31st May marked the official opening of the newly constructed junction at Torpenhow/Bothel junction on the A595, with Story Contracting's Construction division completing the project which was initiated by Cumbria County Council, and Cumberland Council has been responsible for the improvement works to the junction on the A595.
The project received a £5m investment from Cumbria's Local Enterprise Partnership (CLEP), who supplied funding through the Government's 'Getting Building Fund'.
This enabled the project to include the relocation of the Torpenhow junction, re-rerouting of the existing Torpenhow road, widening of the A595 to accommodate new turning lanes, lengthening the under-road culvert, and construction of a new attenuation pond.
The new junction layout improves road safety by providing turning lanes to remove the need for standing traffic. It also provided a high-quality improvement to reduce travel times, improve reliability and protect and enhance the natural environment. Residents and businesses now have better access to the North including Carlisle and the M6 as well as to West Cumbria, thereby supporting the local economy.
Cumberland Councillor Denise Rollo, Executive Member for Sustainable, Resilient and Connected Places said:
"I am delighted that the Torpenhow road junction is now open, as the A595 is very important for connectivity between Carlisle and West Cumbria.
"I would like to thank all the locals and commuters for their patience while we have made these road improvements, and also thank our local contractor Story Contracting for all their hard work, and the CLEP for their funding investment – this road will help to make people's lives not only safer, but a little bit easier on a daily basis."